Best Writing Apps & Software to Increase Your Writing Skills
Published on December 22, 2021 – Last Updated on June 28, 2023
Writing apps are everywhere, but finding the right one for you can be time-consuming and frustrating. You want to write better than ever, but you don't have hours to spend trying out new writing apps.
This guide will help you find the best writing app for your needs in just a few minutes. First, we'll walk through the collection of the top choices so that you know exactly what's available and how they work. Then we've got some great tips on getting started with your chosen app and some insight into why these particular apps were selected over others that might seem similar at first glance. Let's get started!
Which is the Best App for the Writing Process?
The best apps for writing can help you with everything from keeping your ideas organized to helping you get your thoughts down on paper. Many apps support writing, but not all of them are equally effective in doing so.
The best app for you can help your writing flow without any tension or stress. This guide pulls together the top choices based on their ease of use and how they help you write better than ever before. Please keep reading to learn more about each tool and how they help you with the writing process.
Check out our Chat GPT ai content creation posts:
Who Should Use a Writing App?
They can benefit writers of all different skill levels and across many different professions and projects. So whether you're writing fiction or nonfiction, whether your project is an e-book or an article for a magazine, a writing app can help you to produce quality work without the usual headaches that come with the process.
In addition, students of all levels can benefit from using a writing app. From elementary school students learning to write essays for the first time to graduate students completing their theses, a good writing app can provide essential support and structure when needed.
Chat GPT for iOS (iPhone & iPad) and Chat GPT for Android Google Play
ChatGPT is now available on both iOS (iPhone & iPad) and Android platforms, making it easier than ever to access the power of AI-powered writing. With the ChatGPT app and ChatGPT Android, you can enjoy the benefits of this cutting-edge technology from anywhere, at any time. In addition, the app features a user-friendly interface that allows you to quickly input your text and receive suggestions and completions within seconds. So whether you're looking to write a report, an email, or take notes, ChatGPT for iOS and Android has you covered. Download the app today and discover how AI can revolutionize the way you write.
Jasper is One Of The Best Writing Apps That Works for All Niches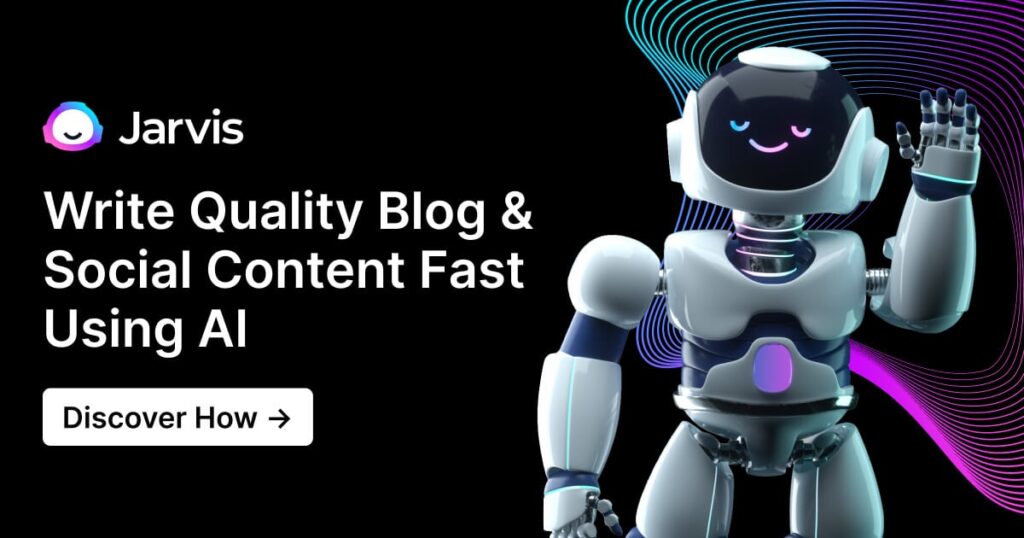 I will start up the list with the Jasper writing app that uses artificial intelligence to help you write. Jasper is one of the best AI-assisted writing apps I have encountered.
What Jasper does is analyze your text, helping you to improve vocabulary, grammar, and style. It also makes sure that your text sounds like you. You don't need to be a scientist or a genius to use Jasper. The app is easy to use; you need to copy and paste your text into the Jasper text box on the website and let the AI work its magic.
It's also worth mentioning that Jasper offers a great range of features, including a plagiarism checker, an online thesaurus, and a dictionary. You can also set up a daily writing goal to stay on track with writing every day.
Jasper is a freemium app, meaning that you get the basic features for free and can upgrade your account to get more advanced features, such as plagiarism checks or unlimited use of certain features. You also get several lifetime upgrades included in your purchase. So if you're looking for a great writing tool with powerful AI features, Jasper is definitely worth considering.
This is hands down one of the best online writing tools that can assist you with ai content creation. However, even though it is an excellent app for writers, you have to understand that it's only a useful tool and cannot replace the human writer.
The premium version can help you write articles, creative writing, and even complicated writing projects.
Grammarly Writing App & Grammar Checker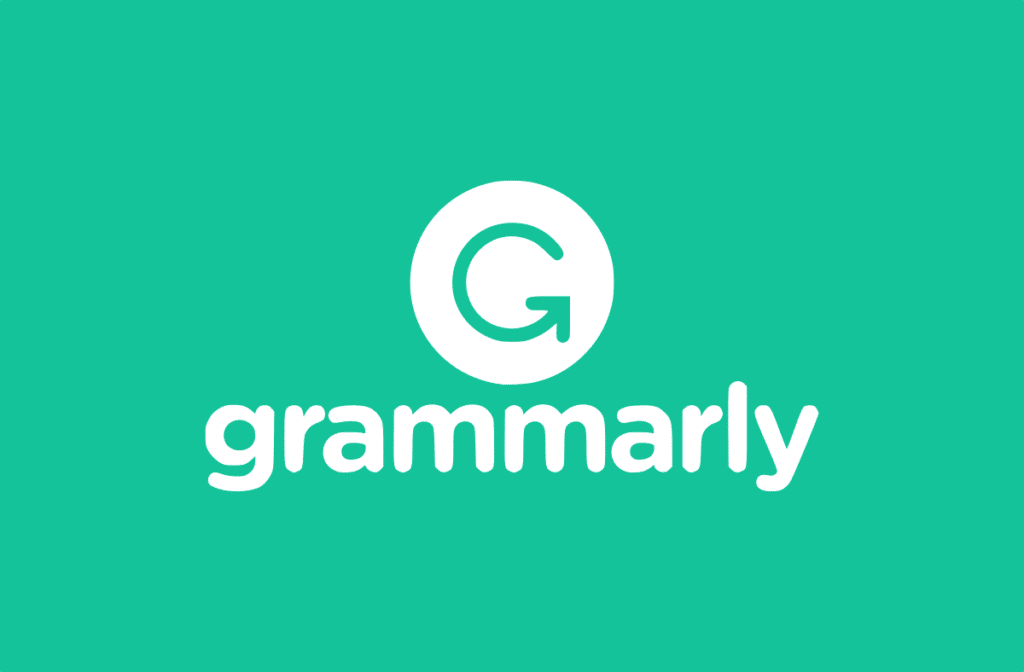 Grammarly Writing Software is an excellent grammar checker that catches the errors in your writing and provides you with detailed information about each mistake so you can learn from them.
This software helps you communicate with confidence by ensuring the quality of your writing. You can set goals for any audience, whether formal or casual; analyze text clarity-wise to make sure it's easy on readers' eyes–and, more importantly – deliver messages effectively!
Grammarly App for Writing can be accessed as a desktop app or on a mobile device, making it an excellent choice for people who are always on the go. Plus, it's affordable and easy to use, so there's no reason not to add it to your writing toolkit!
This writing app is an excellent tool for those who write tons of emails. It has an interface that's very easy to use, and it will give you suggestions on how to improve your grammar, spelling errors, or even word usage! However, if I chose this program versus one explicitly designed with storytelling in mind, the latter would undoubtedly prove much more helpful. Not only can they help fix any lapse into improper language, but they also offer insights into what might work better when telling stories through different mediums (books vs. web pages).
Best used as: Checking Grammar Mistakes and Writing Prompts.
Price: It has a free online editor with limited features, or you can purchase the premium version for creative writing for about 29.99$.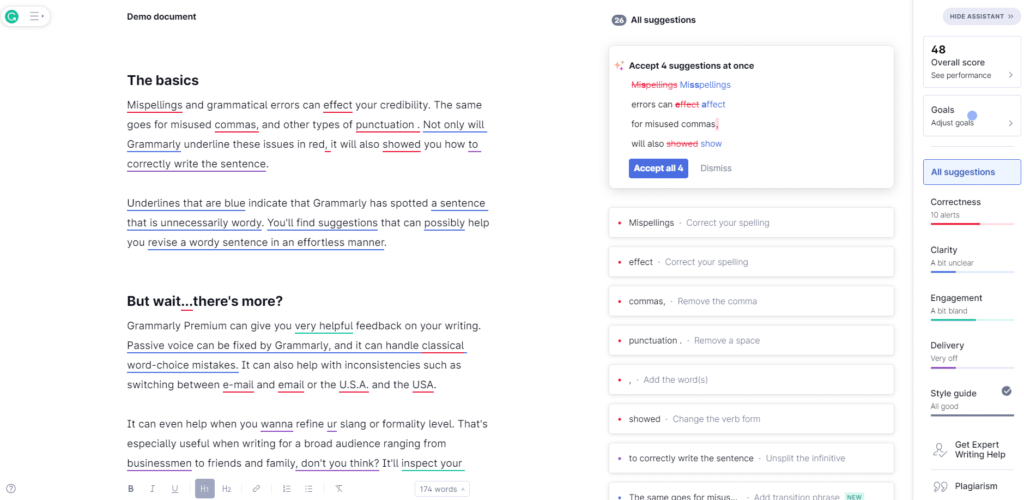 Microsoft Word ( MS-WORD) – Google Docs – Pages
Word processors are essential tools for any writer. These apps can handle all your basic needs, and they're pretty much always available no matter where you are – even if it's on an iPhone! Additionally, you have the option of using Microsoft Word or Google Docs, both of which come equipped with plugins that will add additional functionality to suit different types of writing styles, as well as Apple Pages free of charge depending upon what operating system (OS) version number machine/personal computer software program installed onto said desktop computer hardware device."
There are so many different writing apps on the market today, but these three should at least be considered. They all have features that will meet your basic needs, and they're always available no matter where you go or what device you use–whether it's Microsoft Word with its ability to handle anything from limited office paperwork right up to more complex projects like novels;
Google Docs, which provides an easy alternative if you need something quick without sacrificing quality (you also get Apple Pages for free as part of OS X); or even Open Office Writer – a capable word processor comparable in some ways to Microsoft Word, but less expensive and without all the bloat you don't need. Of course, all these writing apps will help improve your writing in some way, so if you haven't used any of them before, then I'm sure that after giving it a try, you'll be pleased with the results."
Apple Pages
Apple's own writing app comes free with every Macintosh computer. It has a very intuitive interface and contains features to help you edit your work from anywhere! It also offers stock images that can be used for both your original writing pieces as well as the manuscript files created within it. This is definitely a great choice because not many word processors come free with a computer, and it beats having to purchase separate software just for the purpose of writing."
Microsoft Word
Microsoft Word is an industry-leading word processor that many people use to write everything from simple letters to more complex projects. It's available for both Windows and Mac users, and it has features that can help you with everything from grammar to layout. It also comes with a built-in dictionary and thesaurus for looking up words on the fly!"
Google Docs
Google Docs is a great word processor for people who need to be able to access their work from anywhere. It's available as a web app, and it's also compatible with most mobile devices. It has features that can help you with everything from grammar to style, and it also offers real-time collaboration so you can work with others on your writing projects!"
Which word processor is right for you?
That all depends on what you need. Suppose you're looking for a word processor that's available on multiple platforms and offers a wide variety of features that will help you with everything from grammar to layout. In that case, Microsoft Word is probably your best bet. However, suppose you're looking for a more affordable word processor that's available on multiple platforms and offers many of the same features as Microsoft Word (like real-time collaboration). In that case, Google Docs might be the app for you.
Living Writer is one of the Best Writing Apps For Storytelling or Book Writing.
Living Writer, one of the best new writing apps for authors, is available on your web browser. It helps you organize stories and plots using outline templates like in Scrivener – but with an easier interface! And unlike many other programs that require days or hours spent typing out long documents by hand before being able to share them as they stand now: You can upload chapters straight away without worrying about saving them locally (which means no more switching between devices). The app also offers offline availability, so there's never any worry about not having internet access when working back at home later today 🙂
This is just one of the many Writing Apps For Novelists – and it's quickly becoming a favorite because it offers a more comfortable way to work with long documents. If you're used to typing out your scenes and chapters by hand (or using an app that doesn't offer online/offline availability), definitely check Living Writer out!
This writing app is used by all types of writers – from journalists to novelists, bloggers, and more. The web app allows you to create new documents for free. Still, it also offers an Unlimited Plan that gives users access to plenty of writing extras like password protection, 5GB storage space, offline availability, and more!
Best used for: Planning, writing stories, and blog post articles.
Price: Free version and a premium version for 9.99/month.
ProWritingAid
ProWritingAid is a great option for writers who are looking to improve their grammar and spelling without breaking the bank. This writing software offers affordable tools that can be accessed in a variety of ways, including a desktop app, an online app, and even a mobile app, so you'll never need to worry about not having access to your work. In addition, the tool helps writers improve self-editing skills and assists with other writing tasks like organizing stories and plots! One of the best things about this software is that it's available as an affordable subscription plan – which means users do no need to pay upfront before they get started. This makes Pro Writing Aid one of the most popular writing tools on the market!
This can be used for creative writing projects, novel writing, and more.
Best used for Proofreading, spelling, grammar checking, and writing project headlines.
Price: You can use it as a free writing app with limited features or purchase a premium of 25$/ month premium.
Scrivener – Long-Form Writing
Scrivener is one of the best writing apps for long-form writers. The app offers a wide variety of features that can help you with everything from developing characters to creating outlines and more. One of the best things about this software is that it's available on multiple platforms (including Mac and Windows), which makes it perfect for people who work on multiple devices.
With Scrivener, you can create different notebooks for your various projects and stay organized by moving them between tabs. You will find that it's easier than ever to outline what needs writing and how much time each project should take up to avoid getting overwhelmed when tackling complicated topics or influential papers- no matter where they are!
Both novelists and journalists use this writing app for its easy-to-use interface, efficient layout, and flexibility in what can be included. Scrivener is one of the best software programs available on the market because it offers users a fast way to navigate through long documents easily! This means that if you're looking for a way to stay on top of your work, you can easily use the program without feeling overloaded with information.
Best used for: Efficient organization and navigation, writing project headlines, and organizing chapter contents.
Price: 49$/month.
Ulysses
Ulysses is a popular writing app among novelists and bloggers because it offers distraction-free writing. The app is available on Mac and iOS devices and has a variety of features that can be helpful for writers who are looking to focus on their work without being disturbed.
It's not often you come across a writing app that has everything. Ulysses is one such exception, and it includes:
a Markup-Based Text Editor with keyboard shortcuts so writers can be faster;
Libraries to organize notes and documents – perfect for those who need organization in their lives!
It also offers to publish directly onto WordPress or Medium (two of my favorite platforms), set goals if they want more than just some light blog post material but rather something substantial like an article on how we're going to handle increased traffic at work next quarter.
Besides, it will help people make the most out of themselves through creativity without feeling overwhelmed by all their options!
Journalists use this writing app because it offers the simplicity they need to access their work whenever they choose. It's one of the best writing apps because it allows users to be more productive and organized with all of their work! No matter what type of project you're working on, you can access the information you need without feeling bogged down by all of the different features available.
Price: 5.99/month.
Best Used: It is one of the best blogging apps with both browser extensions and mobile use. Excellent price/quality writing software.
IA Writer
IA Writer is the perfect app for when you need to write something small and concise. This distraction-free writing app helps produce quality content without any hassle with an easy-to-use interface!
IA writer offers many features that make creating articles or blog posts more accessible than ever before, including minimalist design, which keeps your focus on what matters (writing);
It also offers instant access, so there's no waiting around while saving documents takes place in the background – everything happens instantly after pressing the "start" button; it collaborates seamlessly between devices allowing users to collaborate across platforms via synchronous word processing services such as Google Docs, iCloud, DropBox and more!.
Best Used: For those needing a simple, easy-to-use interface for drafting small writing pieces.
Price: Limited Free Version with a premium add-on of 29.99/month.
Final Draft
If you're a screenwriter, Final Draft is the app of choice. It has all the features you need to write your screenplay and more. You can create character profiles, import research documents, track revisions, and sync everything with Dropbox, so it's always backed up. And if you have an idea while working on another device or computer, open Final Draft on any device to pick up where you left off.
Its intuitive interface and powerful writing tools like scene navigator, index cards, and built-in outlining tool make writing easier than ever!
Plus, with real-time collaboration support for teams or groups of writers – everyone can work together on one script simultaneously! That means no more emailing files back and forth between collaborators! Instead, everyone stays updated as anyone in the group makes changes.
The best part? Your scripts stay safe because they're stored locally on each collaborator's machine until they choose to share them online again – even after they leave your team or group of writers!
So whether you're collaborating with friends who live nearby or around the world – there's never been a better way to collaborate on screenplays than using Final Draft 9 software from anywhere in the world that has internet access!
This is one of the expensive writing apps; however, if you want to write professionally, this can be a great choice. The price is 99$/month.
Day One
Journal writing hasn't been easier! With Day One's simple, elegant interface, you can write your daily journal and compile photos and thoughts with a single tap.
It works on all devices, both Android and Apple users. So you can write articles or compile shortlists for just 2.95/month.
Reedsy Book Editor
If you are looking for an easy-to-use program to help with your writing, then the Reedsy Book Editor is perfect. You can move chapters around on their own page without any problems or hassle; make changes at a glance by tracking versions of each chapter through time-saving features like destroying old work when done working so that there's no chance it gets published accidentally! And if things get tough between deadlines?
Don't worry about being motivated because this app has designed its interface for human beings who need encouragement towards goals with a "focus mode," which eliminates almost all distractions – perfect for writers who want to stay productive while taking a break.
This is one of the best free writing apps.
Hemingway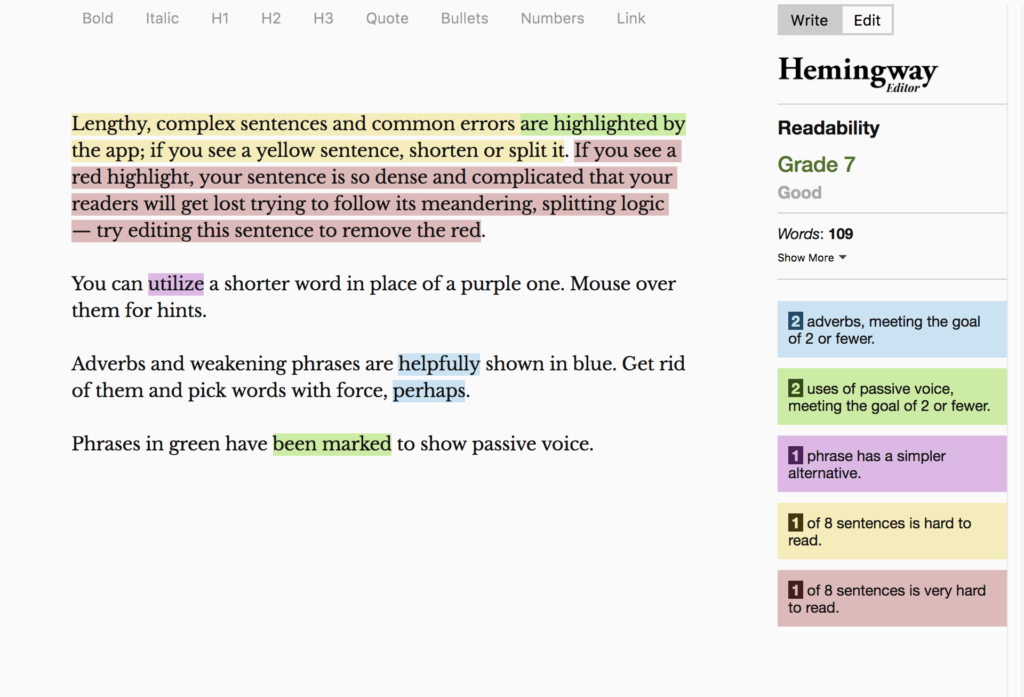 Hemingway is a must-have app for writers who like to keep things short and sweet. The purely prose-based editor gives feedback on sentence length, word usage, and passive voice adverbs – simple elements that can make or break your writing!
This tool is better than other editors because it has different colors to make it easier. You can make sentences shorter by looking at them before getting opinions from others.
A premium version of this called Hemingway app pro is available at 12.99/month.
Conclusion about Best Writing Apps and Writing Software
Once you've found the perfect writing app, it's time to put that bad boy into action! Start by setting a daily writing goal, and then use your chosen app to stay on task. Next, think about how often you'll need to revise what you have written so far. Will this occur once at the end of each day, or do you want to go back and change things as they happen? You can either set up an automatic schedule for yourself in advance or input these changes manually after every session. Finally, we recommend taking advantage of any features like autosave and multiple file backup which may come with your selected app, especially if English is not your first language (translation software). Now get out there and write your magnum opus!