Fear of Flying Apps: A 2023 Review of The Best Flight Anxiety App
Published on January 15, 2022 – Last Updated on January 9, 2023
Flying is often cited as one of the top fears in the world. In a globally connected society, it's not hard to see why air travel can be so anxiety-provoking for some people. But for those with a fear of flying, even the thought of boarding a plane can be terrifying. Luckily, there are now several flight anxiety apps on the market that can help ease your fears and make air travel less daunting.
In this blog post, we'll take a look at some of the best flight anxiety apps available in 2022 and discuss how they can help you overcome your fear of flying. We'll also talk about some of the drawbacks of these apps and offer tips on choosing the best one for you. So if you're afraid to fly, read on and feel free to leave a comment with your thoughts!
What is Flying Phobia?
Flying phobia or flight anxiety is the fear of air travel. Unfortunately, it's also one of the most common phobias in the United States, with roughly 6.5 million people affected by it. While flying is statistically relatively safe, some people find it more traumatic than others.
Most of us have experienced some form of flight anxiety at one time or another. For example, maybe your plane was delayed on the runway, you had to make an emergency landing, or perhaps the cabin lost pressure at 30,000 feet. If this type of situation happened to you once or twice in your life, you've likely developed some flight anxiety after the experience. Unfortunately for others who suffer from more than just a few isolated incidents, there is fear of flying apps available that can help ease their worries.
How Can Apps Help With Fear of Flying?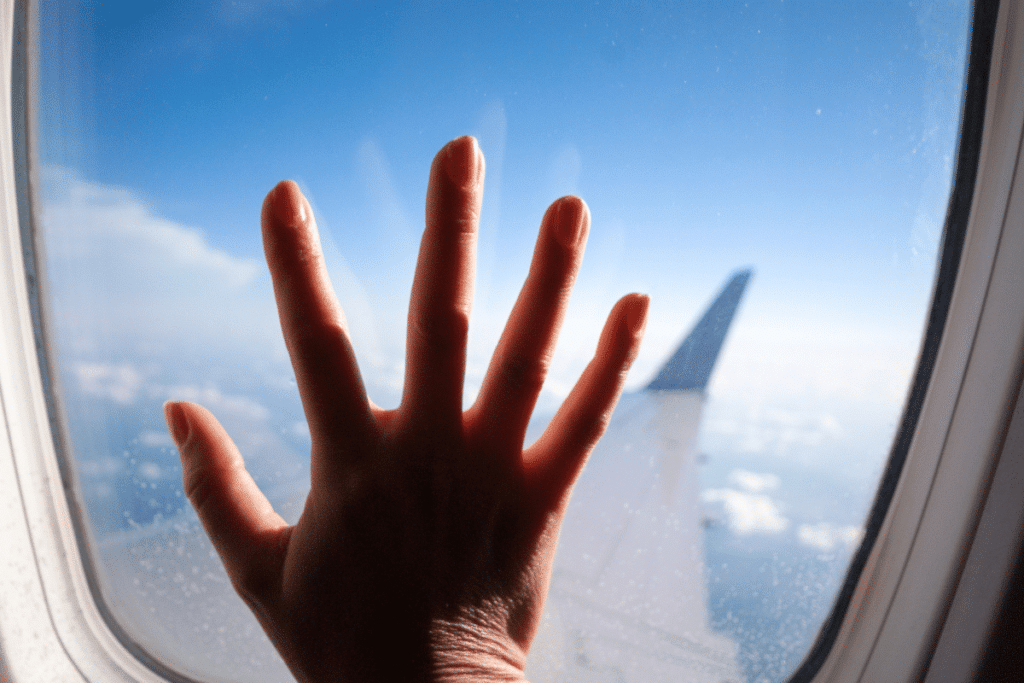 The first step in overcoming a fear of flying is understanding why you're afraid in the first place. There are many reasons why people might develop a fear of flying, but the three most common ones include :
Fear of heights: one of the reasons for being an anxious flyer is the fear of heights. This fear might be related to your geographic location or height above sea level, depending on where you live.
Fear of crashing: another reason is the fear of crashing. Air travel is very safe for those who fly frequently, but just one crash can turn someone off flying forever.
Lack of control: A third reason people develop a fear of flying is the lack of control. If you don't own the plane or pilot it, then there's little you can do to guarantee your safety during a flight.
Of course, not all fears of flying boil down to one simple reason. Instead, some people have a combination of these anxieties that lead them to avoid flying at all costs. But for those who are looking to overcome their flying phobia, apps can provide support.
Which Are The Best Fear of Flying Apps?
Let's look at some of the more popular ones available today.
1. Flying Fear Free – No Anxiety!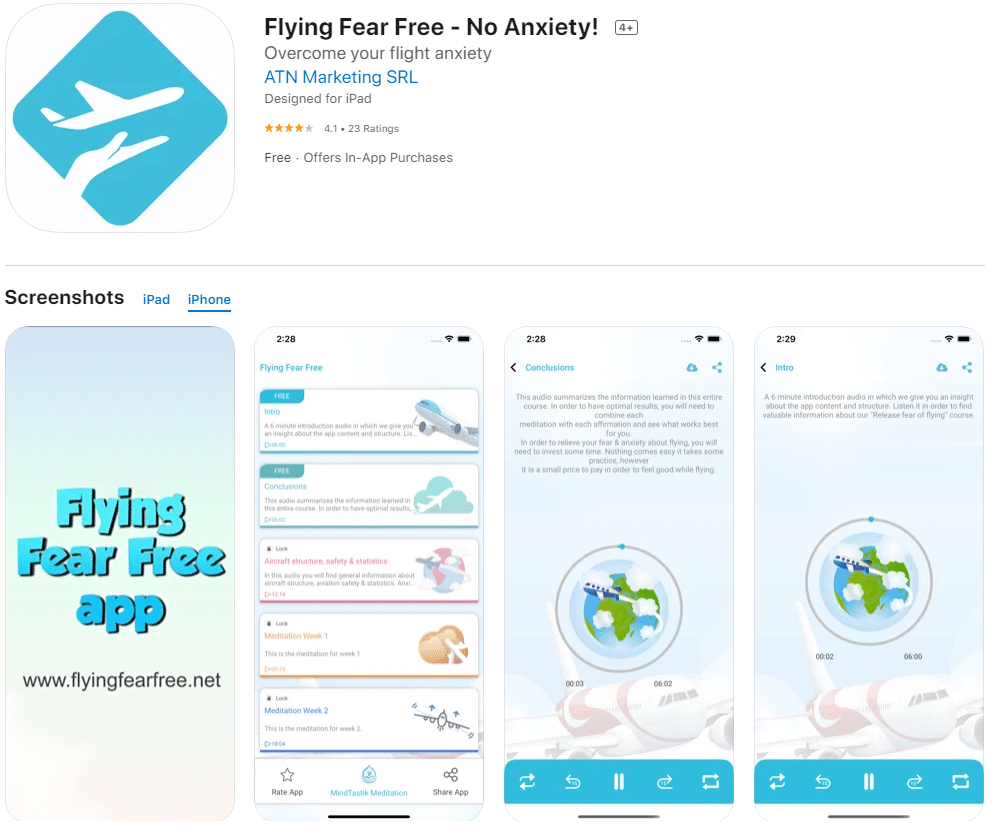 Fly away with our interactive self-help guide to overcoming your fear of flying and feel no discomfort on a plane. After going through the entire course, you'll be able to fly in peace!
The best way for everyone who has their flying phobia is through education. So we created an informative website full of helpful tips that will make it easier than ever before when facing up against those bothersome thoughts like "I'm going too fast!" or even worse: "This might crash!".
This one is our favorite app for all nervous flyers because it provides meditation exercises that will allow you to manage your anxiety levels while flying. It also contains easy calming exercises, which you can download on your phone and use on flying.
Even though a hypnosis licensed therapist released this app, anxious flyers prefer it due to its low cost and frequent app updates.
Download for iOS devices: Flight Anxiety App
Download Android: Fear of Flying App
The best part about this app is that it's based on cognitive-behavioral therapy (CBT), the only treatment method recommended by most therapists and psychologists. So to alleviate your flying fears, use these video courses developed by the best in-flight travel therapist.
2. SOAR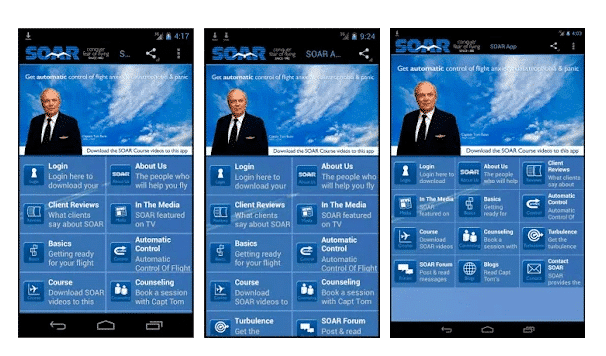 Take off on your next adventure with the SOAR app! This app is the perfect way to learn about what happens when you fly, from taking off all of that turbulence right down into landing. An airline captain and licensed therapist created this interactive guide, so it's got everything needed for beginners and veterans in this field!
It's full of great tips on what to do during flights, including a G Force meter that will prove there is no threat from turbulence. Nervous flyers should now enjoy their flying experience.
The price starts at 19.99$, and you can download the app for iOS and Android.
3. VALK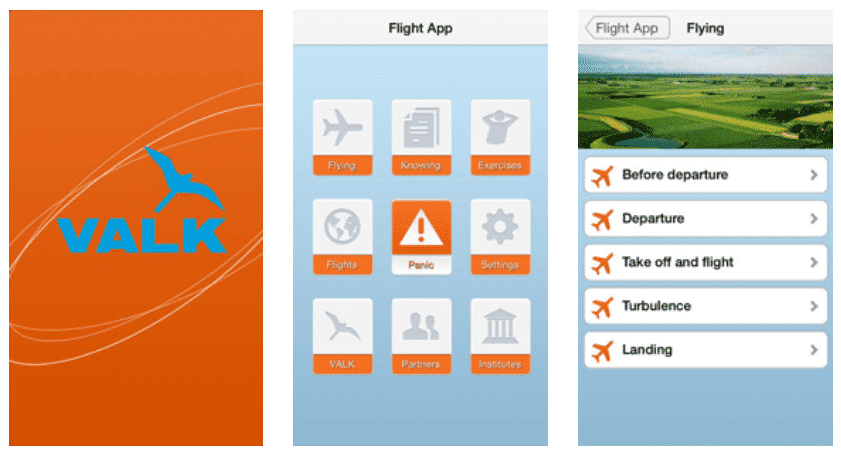 The Leiden University, Air France/KLM, Valk Foundation, and Amsterdam Schiphol Airport have collaborated to create an app that will keep your worries hidden. This innovative program is based on scientific data, so you know it works!
This fear of flying app is an innovative way to help decrease tension levels. With this simple but effective user experience, you can press a panic button and activate audio messages from your automated therapist, who will guide you through deep breathing exercises while tracking what's going on with the balls moving along wavy lines in different colors!
This way, you can avoid a panic attack and have a safe flying.
You don't need an internet connection either. Hence, it's great if, like me – busy fidgeting grownups who constantly find themselves lacking time for self-care because there are just too many things that require our attention already at any given moment.
Download the app from Google Play or iTunes.
4. ANA Takeoff Mode
To make flying an engaging and enjoyable experience, you can use ANA Takeoff Mode during your flight. This app detects when you take off to respond according to the game, whichever one you're playing!
This new approach by air traffic control specialists at JAL airlines wants their customers' flights just like any other activity in life: fun-filled but safe with no worries or concerns weighing down on them- because, after all, it isn't taking off; something worth celebrating?
The app offers complete flight information for free for its users.
Get it for iOS.
5. Turbcast
Turbcast is a revolutionary new app that helps passengers fly by providing accurate turbulence forecasts before their flights. The Turbulence Forecast section of the application periodically updates current conditions. It will show you what to expect from minimal visibility levels all way up into severe storms, allowing anxious flyers like yourself peace of mind during those crucial preboarding moments!
So if you are a nervous flyer, these travel tips about bumpy flights will make your stress easier. Unfortunately, the app is only available for iOS.
6. Meditation Apps
Mindtastik is one of the best meditation apps to relieve stress through meditation and focus. In addition, the app users will have free access to our fear of flying meditation app.
Flying App In-Flight Therapist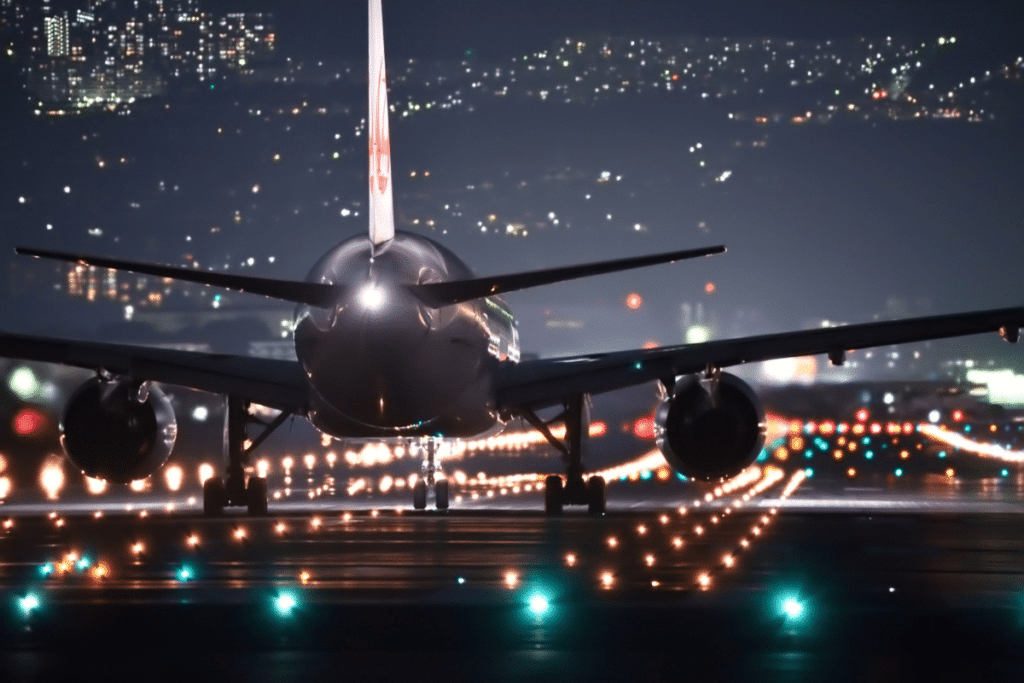 People suffer when they travel by air and when you do so these tips about flying will help you. Using these apps, you can relax during the flight (and even sleep during turbulence) with our in-flight therapist specially created for people who suffer from flying anxieties.
I hope you enjoyed our article and if you have any experience with the six apps we mentioned in this blog post, please leave a comment below! Have a safe flight!
Tags: flying apps, overcome fear, next flight, fear of enclosed spaces, airplane mode, next flight, fear of flying, flight experience