Best Pregnancy Meditation Apps for New and Expectant Moms
Published on January 23, 2022 – Last Updated on May 20, 2022
Are you looking for a way to relax and de-stress during your pregnancy? If so, you may want to try using a pregnancy meditation app. There are many great apps available that can help you learn how to meditate, and some of them even offer prenatal meditation programs. Here are five of the best pregnancy meditation apps for new and expectant moms.
Pregnancy Meditation App for Mental and Emotional Wellbeing
Some pregnant women experience mental and emotional challenges during pregnancy. For example, they may feel overwhelmed, anxious, sad, or depressed. Luckily for them and their unborn baby, there is a new way around stress, anxiety, and other related issues: pregnancy meditation apps. Check out our best pregnancy apps post.
There are many benefits of using a pregnancy meditation app for mental and emotional wellbeing, some of them being:
reducing stress, anxiety, and fatigue
improving sleep quality in order to have a gentle birth
reducing the risk of preterm birth, low birth weight, and postpartum depression
enhancing feelings of happiness, relaxation, comfort, and wellbeing
strengthening the mind-body connection
fostering more positive feelings toward your future birth
increasing protective factors that shield you from stressors during pregnancy
Pregnancy meditation apps can also help expectant mothers to connect with their babies and prepare for labor and childbirth. They help you experience the intimacy and connection that comes with pregnancy and childbirth and can make labor and delivery more manageable.
What are the best meditation apps you can use during pregnancy?
Hypnobirthing Mom
Mindtastik Guided Meditation & Mindfulness App
Expectful
Mindful Mamas
Sanity & Self
Insight Timer
Hypnobirthing Fit Pregnancy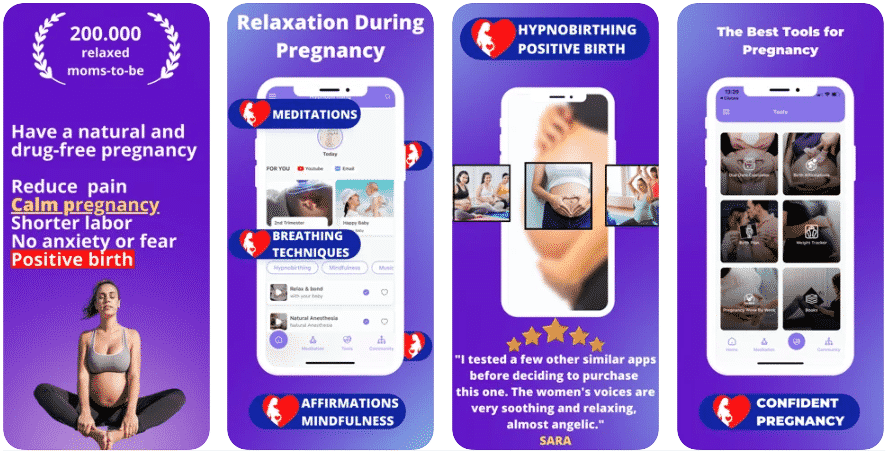 This free app is the number one mental health solution for moms to be. Developed by a mother with postpartum depression, it aims to help you achieve physical, emotional, and mental balance during the most exciting but overwhelming time in your life.
The app offers six chapters that include pregnancy meditations for both mommies-to-be and new moms. It also offers many other comprehensive tools that promise to give you peace of mind, relaxation, and a clear head. It would be best if you started using this app as soon as the first trimester.
This app employs the use of hypnotherapy techniques to help moms become more confident, relaxed, and excited about childbirth. You can also learn how to manage your fears, stress levels, and anxiety through this pregnancy meditation app.
Hypnobirthing Fit Pregnancy teaches hypnobirthing techniques that are proven to reduce stress with guided meditations for expectant mothers. The free version includes two meditation tracks to get started with your meditation journey. Start your free trial and download the app today!
Android: Hypnobirthing app
iOS: Hypnobirthing app
MindTastik Guided Meditations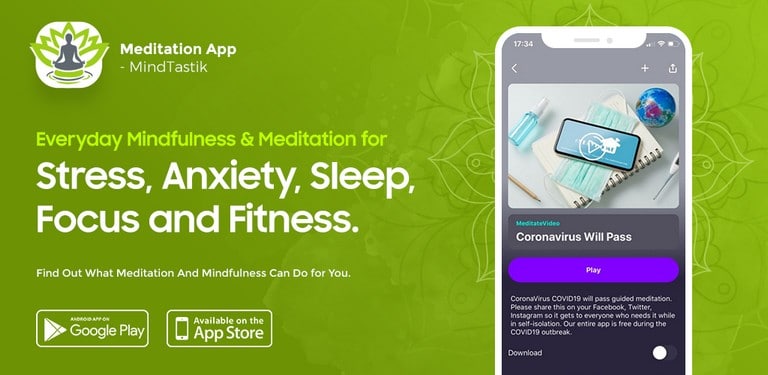 Mindtastik is the go-to app for self-care. Aside from providing useful meditation sessions for busy moms, it also offers a series of meditations that aim to improve the health and wellness of both new parents.
Single parents have multiple meditation options in the birth prep, labor, postpartum, and mindfulness categories to help them deal with their current situation. While many mindfulness apps focus on birth alone, Mindtastik is one of the few tools you can use both before and after your baby arrives.
The tailored exercises offered by this application are a great asset during pregnancy and the early stages of motherhood. The exercises provide a moment for you to escape from your hectic schedule with guided meditations that help relieve stress, fear, depression, and many other common – yet unpleasant – emotions.
You can download it for free for Android or iOS.
Expectful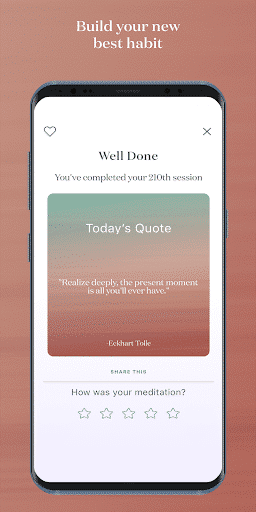 Meet Expectful: the new way to empower and care for your body during fertility and motherhood. For a healthier, happier mommy – who will be more confident in their abilities as they go through this amazing journey with you!
Expectful is a haven of holistic care for fertility, pregnancy, and motherhood.
• Expecting provides holistic support from fertility through the baby's first year.
• Expecting has helped hundreds of thousands of women reduce tension.
The mom-to-be will start the practice with the help of a calm, soothing voice and a personalized connection to their child and body. It is like having your own midwife with you throughout your entire journey.
You can download this Expecting App for iOS.
Mindful Mamas
Mindful Mamas is your virtual safe space for moms at all stages of motherhood. Whether you're pregnant, have toddlers or school-age children–or even if they've grown up and left home! We've got personalized support to help manage anxiety while providing daily affirmations that will keep our happiness intact (and make being calm a reality).
How can Mindful Mamas help you?
• Track pregnancy (with the option of sharing it on social media!)
• Receive daily positive affirmations based on your current life stage.
• Log 'Mommy & Me' moments to share with other moms who understand what you're going through!
If you feel stressed and want to get started with meditations, you can go ahead and download this app for Android.
Sanity & Self
In an increasingly hectic world, it's easy to forget about ourselves. Sanity & Self has the perfect solution: mindfulness meditation sessions that will help you find peace in your own mind and keep up with other responsibilities like work or family life! There are videos for everything from yoga poses all of the ways through personal growth topics such as self-confidence building talks; they're designed so that there's something for everyone, whether someone wants soothing music instead of bleepy noises (depending on preference).
Start your parenthood journey by bonding with your baby from the moment of conception with inspiring meditations from Sanity & Self. Download it for iOS.
Insight Timer
This program will help parents to be to achieve calmness, mindfulness, and positive energy to take on the challenges of being a parent. Insight Meditation Timer provides various guided meditations which are available in different categories that will help you feel good about yourself. These include:
• Sleep Stories and Relaxation
• New Mom Pregnancy & Birth Sessions
• Baby & Toddler
Insight Timer offers a library of more than 11,000 guided meditations that are useful for beginners and experienced practitioners alike. If you want to meditate without guidance, you should check out our online meditation timer.
The Insight Timer is helpful in various situations, including health, sleep, pain management, positivity, emotional balance, spiritual connection, and relationships. You can feel less stress and achieve calm today by downloading Insight Timer.
Practicing Mindful Meditation
Experiencing labor and birth with a calm and mindful mind is the best way to ensure you will be in control of your body and emotions. You can practice meditation by focusing on your breathing, feeling your body, or watching what's happening around you.
Meditation will help you transcend pain through active engagement in present moment awareness, which ultimately helps reduce the experience of pain. The benefits are endless: it reduces tension before labor starts; meditation will reduce anxiety during labor; it also enhances communication skills between partners and it can increase feelings of control during childbirth for both moms & dads. Meditation also promotes relaxation after birth which encourages bonding time for new parents.
It also prepares mothers to breastfeed their babies successfully because breastfeeding requires relaxation, among other things that meditative practices promote. Practicing mindfulness meditation is a wonderful way to enhance your experience of becoming a parent.
You can benefit from a mindfulness app for free during the entire motherhood journey.
Conclusion on The Best Pregnancy Meditation App
If you're looking for a way to relax and de-stress during your pregnancy, it may be time to try out a new app. There are many great options available that can help you learn how to meditate, and some of them even offer prenatal meditation programs just for pregnant moms! Today we have shown you the best six apps. Which is your favorite so far?