Hypnobirthing is a type of pain management that uses relaxation techniques, visualisation and deep breathing to calm the mother. This technique has been proven to improve the mental and physical health of the mom to be during pregnancy and birth. These apps are designed to help mothers prepare for childbirth in their own way by providing them with information on hypnobirthing techniques. We've compiled a list of the best hypnobirthing apps for you!
They'll walk you through everything from breathing techniques to affirmations that can help calm your mind and ease your body during labor. So take some time today to download these free pregnancy and birthing apps on iTunes or Google Play so that they'll be ready for when baby arrives!
What are hypnobirthing apps
Hypnobirthing apps are a great way to educate yourself on hypnobirthing practices and techniques. With the help of this apps, you will be preparing for birth in an empowered way and will be engaging with hypnobirthing techniques during labour. Hypnobirthing apps can also help you find ways to relieve stress and anxiety.
Why hypnobirthing is a good idea
Hypnobirthing can help you achieve a pain free birth, control your hormones, reduce your fear and anxiety about labour, and release endorphins.
It is also possible to control the experience of labour with hypnosis, meaning less need for drugs.
It is a good idea because hypnosis can be used to reduce anxiety felt during pregnancy as well as reduce the pain felt during childbirth. This relaxation technique is an empowering way of looking at birth – it focuses on how birthing can be a positive experience for both mother and baby, rather than focusing on negativity such as pain and dangers.
Hypnobirthing Classes or Hypnobirthing Apps?
Hypnobirthing classes are great, but hypnobirthing apps can be more convenient. Instead of making time to go to a hypnobirthing class (sometimes costly and with a long wait list), you can download a hypnobirthing app at your convenience and revisit them as many times as necessary, from the comfort of your own home.
Best Hypnobirthing Apps
Are you looking for some free hypnobirthing apps to listen to relaxation music, practice the hypnobirthing breathing techniques or affirmations? Then this is the right place! Here I have collected a list of best available downloads. And it's all free – at least in part. Some app can be an extra resource for practicing your skills and prepare childbirth while others are not as good but still worth downloading if nothing else then just entertainment purposes (though their quality varies).
#1 Hypnobirthing : Calm Birth App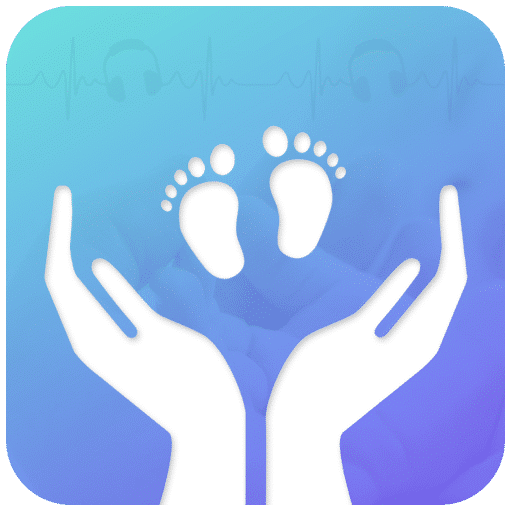 This is the best app for hypnobirthing. It has two free tracks : breathing affirmations for labor & being present while pregnant.
The HypnoBirthing App's Soothing Voice has been praised as "one of the best" around-you'll find recordings by stages like prenatal care, postnatal care; plus there are guided meditations that will help get rid some unwanted fears about childbirth! This app also has a calculator that tells you how many weeks pregnant you are. It shows photos of the baby in development, and it also creates a personalized list of things for you to do. I wish I had known about this app when I was pregnant!
#2 Happy Pregnant Mom Hypnobirthing
This app is very beneficial for pregnant women because it provides information about all aspects of pregnancy. It answers common questions and offers solutions to issues that may arise during pregnancy. It also offers meditations, books and other resources which help you maintain a healthy and happy pregnancy. I recommend this app for pregnant women who want to enjoy their experience of being pregnant and give birth to happy, healthy children. HappyPregnant.Mom is a one-stop shop for pregnant women with all the tools they need to have an enjoyable pregnancy and birth experience, like meditation recordings that can help them relax or our due date calculator. The content on this app is always updated with new articles, books, audios, meditations and exercises so mom never has to look elsewhere for information about her pregnancy or how she should be feeling at different stages in her journey from conception to labor.
• Pregnancy becomes enjoyable, not frustrating
• Have a beautiful experience of pregnancy and birth
• Relieve stress and anxiety, take deep breaths to calm your body
• Learn about the benefits of hypnobirthing for childbirth
#3 The Hypnobirthing App
It is a free app and there's not much to say about it, except the fact that your hypnobirthing session maybe closed at any time due to an ad. Taking in consideration that it is free, you can still download while expecting little or nothing from this service. You will find many other apps providing better quality even though they are paid for by the user. Even though it completes the top 3 best app for hypnosis and has a couple of interesting hypnobirthing tracks.
#4 GentleBirth Hypnobirthing
This hypnobirthing app is good. It asks how many weeks pregnant you are when you first open the app and it creates a personalized plan for you with audio tracks. There are daily plans that include 2 audio tracks per day, but to get more, you need to pay $9.99 or download them in advance on your phone so they don't use up your data. You can also add them to a wish list if there are more than 2 and play them offline too!
#5 Birth Made Easy – Hypnobirthing
The Inner Power Hypnobirthing App is a free, iOS and Android-compatible app that includes one track for relaxation visualization. The upgraded version of the app offers more tracks to cover all eventualities from natural birth to c section and how best to help baby arrive if overdue.
• Learn about natural birthing
• Listen to hypno tracks for when you are pregnant and need help with the process.
• Get a variety of birth options and techniques with one download
#6 iHypnoBirth-lite
This is the free version of the app. It has only two free good tracks: one for birth and one for relaxing. You need to pay £3.99 to unlock all the tracks. I like this app's theme!
#7 Calm Childbirth
This hypnobirthing meditation app is free to download, but if you want to actually listen, then you need to pay £4.99. You can also use two sessions for free: Calm Childbirth Coaching Session and Communicate with your Baby. The self hypnosis tracks included in this app are wonderful and very encouraging.
#8 Freya
The Freya Birth Company is the cheapest and one of the top online courses out there, made by a hypnobirthing studio in London. It includes some audio tracks like other apps but it also offers things to coach you through labor with simple breathing techniques, guided meditations for relaxation between surges or when your body might be telling you that it's time to contact your midwife about how active your contractions have become. You can use this app on both Apple devices as well as Androids (or switch back-and-forth if needed), which makes life easier!
The Freya App is an affordable way to learn all about natural childbirth and everything from what signs mean labour has started up until delivery day tips are given. This app also includes the simple breathing technique that you can use to help your body cope with each surge, as well as a meditation for before, during and after birth.
• The Freya App is the official app of the Positive Birth Company, and one of the most affordable apps on the market
• Coach you through every surge with simple breathing techniques
• Help you relax in between surges with positive affirmations, visualizations, meditations, and soothing music
• Track your contractions to make sure labor is progressing as normal
• Let's you know when to call your doctor/midwife
Best Free Hypnobirthing Apps : Conclusion
If you are pregnant and want to have a positive experience, then it is worth taking the time to find out how hypnobirthing can help. It's not just about childbirth; there are also benefits for your pregnancy too! These apps offer tips on all aspects of being pregnant from conception through labor. You will learn what happens in each trimester and get helpful advice for dealing with common issues like morning sickness or back pain that comes with carrying around an extra 30 pounds of weight during those nine months. If you don't want to take my word for it please try our top 3 best hypnobirthing apps.
Feedback needed – please answer to the questions :
Have you ever tried the apps mentioned as hypnobirthing apps? What are your thoughts on them?
Have you ever tried any of these relaxation techniques?
Would you recommend these to other moms? Why or why not?
Do you feel like it helped take their minds off the pregnancy and the pain? If so, how did it do this for you specifically?
Was there anything that made you laugh out loud during this time when using the app vs any other time of coping with pregnancy discomfort?
How do you feel about self-hypnosis? Do you wish to practice positive birth meditation & pregnancy workouts included in these apps?