Hypnobirthing: Pain and Relaxation Techniques for Pregnancy Hypnosis
Published on December 14, 2021 – Last Updated on December 8, 2022
Hypnobirthing is a hypnosis technique that many celebrities and other people have used to prepare for labor and delivery, ease fears of childbirth and manage pain during birth. However, it is not as simple as hypnosis can make you fall asleep or give birth right away. Hypnobirth helps with the process by teaching breathing techniques, visualization techniques, distraction techniques, and relaxation strategies to help women get through their birthing experience.
This article will discuss everything about hypnobirthing, from techniques to the best hypnobirthing apps that can assist you through pregnancy, labor, and birth.
What is Hypnobirthing Hypnosis for Pregnancy?
Hypnobirthing focuses on self-hypnosis techniques for pain management during labor, emphasizing reducing fear through deep relaxation of both mother and baby. The practice of hypnobirthing has been shown to significantly reduce the need for interventions like forceps or cesarian sections while also improving birth outcomes such as Apgar scores for newborns.
The goal of hypnobirthing is to reduce stress levels at all stages of pregnancy by teaching women how to use their natural birthing instincts – which are more powerful than they realize – rather than fight them.
Hypnobirthing aims to create a calm, positive and relaxed environment for both mother (and her birth partner) and the baby. This is done through teaching women how to use different techniques like visualization, breathing exercises, and meditation, along with giving them some helpful tips on things women can do before the big day – like making sure their home is ready for the new arrival!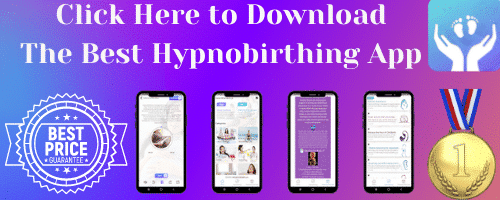 How does Hypnobirthing work?
Hypnobirthing teaches hypnosis techniques to help parents-to-be deal with what they can't control and feel more in charge of what they can control. It's designed to work together with the body's natural relaxation response, helping you have a drug-free birth that might include fewer interventions or less medication.
There's no one right way to do hypnobirthing. You might listen to recordings, use visualization or self-hypnosis techniques, or focus on deep relaxation and breathing exercises. Some couples choose to attend classes together, while others learn primarily from books or online courses.
Hypnobirthing can be used whether you're giving birth in a hospital or at home.
Benefits of HypnoBirthing
There are lots of advantages reported by hypnobirthing mothers and almost no side effects:
Standard benefits:
– You'll have a natural, drug-free birth.
– It's the most effective way to manage pain in childbirth.
Emotional benefits:
– Feel more confident about your birthing experience.
– Enjoy a peaceful and empowering journey.
– Experience a more fulfilling birth.
Physical benefits:
– Have fewer medical interventions during childbirth.
– Lose less blood and have fewer tears or lesions, if any at all.
HypnoBirthing will also help you feel empowered about your pregnancy journey in many ways:
– You'll enjoy healthy, drug-free labor and birth.
– You'll be more confident in your ability to give birth without drugs or medical interventions.
– You'll develop a deeper connection with your baby and feel more prepared for the birthing process.
– You'll be able to relax and focus on giving birth rather than being anxious about the pain.
If you're interested in learning more, you can read our guide to hypnosis for childbirth.
Other advantages of using a hypnobirthing course :
Shorten labor time.
Lessen the need for medical interventions.
Manage pain more effectively during all stages of pregnancy without pain medication.
Feel being in control of your pregnancy and birth.
Healthier babies and a positive birth experience.
Less depression, anxiety, and post-partum depression.
Cope with the trauma of birth better.
Bond with baby more quickly after childbirth.
Learn how to manage your life better in general! Hypnosis is a great tool for developing healthier habits.
Improve your overall health.
Relax and enjoy the journey until the big day.
Breathing techniques.
How do I start HypnoBirthing?
Here are the best ways to learn how to practice hypnobirthing:
By attending a live hypnobirthing class with a support person like a certified hypnobirthing educator.
Alternatively, due to COVID safety issues, you could choose online hypnobirthing classes (also known as childbirth classes) from the comfort of your home. These classes are recommended for both parents and are cheaper than in-person hypnobirthing groups.
By using a Hypnobirthing App at your convenience: Nowadays, hypnobirthing apps are really comprehensive, and if you choose the right one, you will be able to have an amazing birth. The apps are perfect because they are cheap and effective.
Best Hypnobirthing App

We have reviewed most of the hypnobirthing apps on the market and would like to recommend you now the best one.
Hypnobirthing Fit Pregnancy
"Do you want to walk through the process of childbirth with ease and joy? Hypnobirthing is for people just like yourself. It can help reduce pain during labor by using relaxation techniques, breathing exercises, or visualizations that are created with moms-to-be in mind! You'll be able to prepare today, so your next pregnancy will bring new life into our world and an amazing experience in delivering it too!"
This hypnobirthing app is one of the best you can find on the market. It has a clean and straightforward design, it is easy to use, and you can access all the content offline. The app includes:
Over 20 hours of audio content about childbirth.
Mindfulness exercise for expectant parents.
Birthing outcomes and post-natal depression help.
Deep breathing exercises.
Pain relief meditations.
Body Pain management for labor and birth.
The step-by-step guide on how to achieve a vaginal birth with less pain.
I have browsed through their reviews, and I can tell you that I am impressed. So many of the mothers that used this app had an impressive natural birthing experience. It is the best method for you can remain calm or even ease pain from the comfort of your home.
Download Android: hypnobirthing app
Download iOS: hypnobirthing app
Best Hypnobirthing Online Course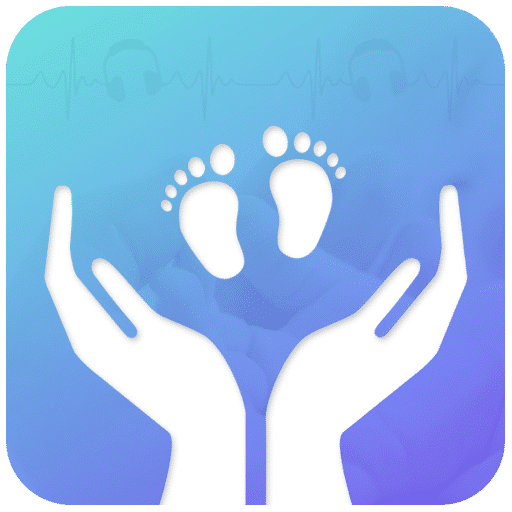 The most useful way to have a positive birth experience is by being informed on childbirth education. We have carefully selected the best hypnobirthing online courses, and we would like to recommend you now our top choice: Calm Birth Experience. This course is cheap, comprehensive, and easy to follow. It has everything you need in order to learn about birthing naturally without pain medication or medical interventions at home! The course is also perfect for dads.
The Hypnobirthing Course – for preparing for labor and birth.
Calm Pregnancy course is available in an online form so that you can learn about hypnobirthing at home. It is perfect for women who want to achieve a drug-free birth and cannot attend live classes or do not have the time due to their busy schedules. In addition, the course is very cheap compared with other similar courses on the market (it costs less than half the price!) and you have unlimited access forever so that you can use it for future births as well.
The course is divided into five classes:
Introduction to Hypnobirthing
Relaxation & Meditation Techniques for Labor and Birth
Self-Hypnosis for Birthing Pain Relief
Birthing Your Baby Naturally – The Process
Positive Postnatal Experience
You can sign up and access the whole course by clicking HERE.
Hypnobirthing Techniques for a Natural Birth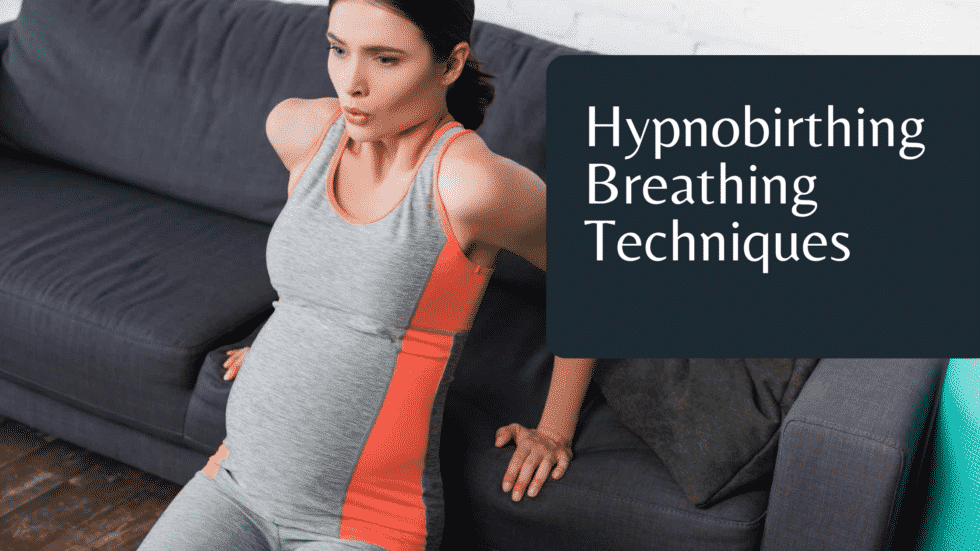 Natural birth is the best way to have your baby, and with hypnobirthing techniques, you can increase your chances of achieving drug-free labor. Here are some of the most hypnobirthing techniques you can practice (most of them are inside the app as well):
Visualizations
Relaxation
Deep Breathing
Mindfulness
Download: hypnobirthing techniques pdf & printable birth plan.
Hypnobirthing techniques are contained in Hypnobabies, Bradley Method, or Marie Mongan Method Hypnobirthing.
To sum it up, you can achieve a calm state using different techniques such as affirmations, visualization, deep breathing exercises, and hypnosis. You can find most of these techniques in the hypnobirthing app or online course we recommended for you earlier.
Best Tools for Labor and Delivery Pain
You may have heard about the benefits of hypnosis for pain relief, but you might not know that it can also be used to help you through labor and delivery. This technique is becoming more common as many women are turning to this form of therapy to cope with their fears and anxieties about childbirth.
Hypnotherapy has been shown to work well for inducing natural births because it allows the mother's body to create endorphins on its own without any medication. This means that she will experience less stress, making her birth easier and more enjoyable. Hypnotherapy also reduces anxiety levels, which can lead a woman into false labor or miscarriage if left unchecked. By reducing anxiety levels, hypnosis can help to keep the woman in labor focused and relaxed.
Many women are hesitant to try hypnosis for childbirth because they think that it will put them into a trance-like state and make them unable to respond to their surroundings. However, if you self hypnotize means you are not sleeping, and you will be aware of what is happening around you.
Calmness and Relaxation with Self Hypnosis
During pregnancy, many women feel a sense of anxiety and stress. With self-hypnosis, you can effectively reduce the anxiety and stress levels present in your body by relaxing as deeply as possible. This is an effective method for reducing the risk of complications during childbirth, such as preterm labor or gestational diabetes. This kind of hypnosis also helps with pain management during labor by distracting from the physical discomfort, which can help to make it more manageable.
The best way to engage in this technique is through audio recordings or apps that include calming music and guided visualization exercises. It's important to remember that not everyone will experience relief from this technique right away. Still, if you continue doing it daily, it should eventually result in a positive outcome.
Practicing relaxation will help you control your stress hormones (or fight or flight mode, which is the response your body gives when you are in the fear mode) which are very damaging to the entire birthing process.
This is just one of many advantages that the practice of self-hypnosis can provide you with, so if you are experiencing anxiety or stress related to your pregnancy, it would be beneficial to try this method out for yourself and see how relaxing it can actually be!
iOS: Hypnosis App
Android: Hypnosis App
Fear and anxiety in childbirth
In the past, women have been told that childbirth is a natural process and there is nothing to be afraid of. But, in reality, it can be one of the most terrifying experiences a woman will ever face in her life.
If this is your first birth, a little bit of anxiety is normal; however, if your fear and anxiety are impacting your quality of life or causing you to avoid activities, then it is time to seek help.
Start using the hypnobirthing online courses and apps and be in control of your birth from start to finish.
FAQ
Hopefully, we have answered most of your concerns about hypnobirthing in this article. However, if you have specific questions, we have written an in-depth article about hypnobirthing questions, where you can find all the answers you need before starting the hypnobirthing practice.
Conclusion
Hypnobirthing is a new and popular way to help parents-to-be cope with the stresses of childbirth. It's designed to work together with our body's natural relaxation response, helping you have a drug-free birth that might include fewer interventions or less medication. There are many ways to do hypnobirthing; couples may attend classes together or learn from books only, depending on what they feel comfortable doing alone. What are your thoughts about this practice? Could you share them in the comments below?
Tags: hypnobirthing classes, hypnobirthing techniques, Bradley method, body, other methods, relax, relaxed, midwife, Grantly dick