Whether you're trying to track your symptoms, find workout routines or meet other moms-to-be there's an app out there that will suit your needs! We have tested them for you in order to pick the top pregnancy apps.
We all know that pregnancy is a time of high stress and uncertainty. From the moment you find out you're pregnant, to when your baby arrives, there are a million things going through your head. The introduction of technology has made life easier for expectant mothers in many ways – from what they should be eating or doing during pregnancy to how they can get help with newborn care once their little one arrives. In this blog post, we'll take a look at some of the best apps available in 2022 that will make being pregnant even more enjoyable!
Best Pregnancy App for Well Being during Pregnancy, Labor & Birth

The best way to prepare for birth is by using an app that will help you relax and get into the mood.
Hypnobirthing is a technique for childbirth. It is different from the traditional techniques in that it doesn't focus on pain relief or avoidance of contractions but instead focuses on relaxation and breathing to make the birthing process more comfortable.
Hypnobirthing classes teach pregnant women to use hypnosis-like methods during labor to help control their fear and anxiety about giving birth, which can lead them into tense muscles. The goal of this approach is not just pain relief but also an empowering experience that allows mothers to feel safe, prepared, confident, and supported through their birthing experience. Hypnosis has helped many people overcome difficult life experiences in addition to helping with childbirth so it's no wonder why moms are taking up this practice!
Hypnobirthing · Mom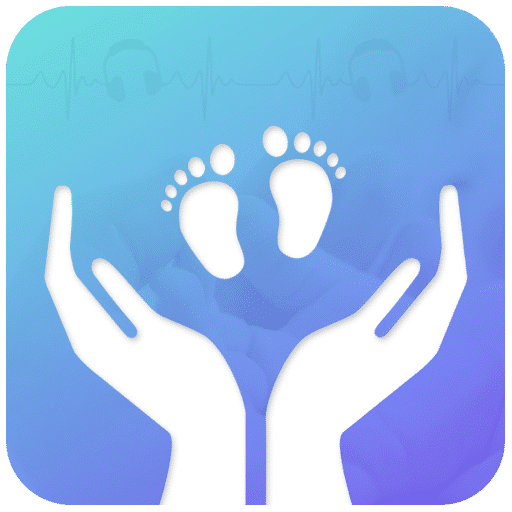 We start our top with a great pregnancy app which is needed for both relaxation and preparation of the birth.
The Hypnobirthing app has over 15 hours of quality audio tracks that incorporate the following hypnobirthing techniques: visualization, relaxation, deep breathing, self-hypnosis, pregnancy and birth affirmations, and mindfulness.
The soothing voice will help you achieve relaxation in all stages including prenatal and postnatal care. The guided meditations will help you get rid of the anxiety and fear you may have around childbirth. This app is fit for expecting parents and you can find a guided meditation called Birth Partner which is a great addition for your husband in order to assist you during pregnancy.
Another great feature of this app is the due date calculator which gives you important information about your pregnancy, photos of the baby's growth and has a great to-do list personalized for each stage of pregnancy. This is one of the top pregnancy apps and the in-app purchases are affordable for all pregnant women. You have to notice that there are 2 pregnancy audios that come free within the app.
The app has an overall rating of 4.7 across all stores and if you want to have a healthy pregnancy you can download it by clicking on the links below:
Hypnobirthing app for Android
Hypnobirthing app for iOS
NOTE: This app comes with a pregnancy baby tracker (included in the due date page) and weekly updates for each pregnancy stage.
BabyCenter Pregnancy App & Baby Tracker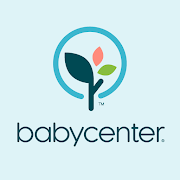 With this app from BabyCenter, you can get an accurate picture of what your pregnant life will be like. You'll have access to 3D renderings of a baby's development in the womb, connect with other pregnant women on the social network for shared advice and opinions about pregnancy symptoms or how childbirth affects motherhood down the road! There are even cool features such as downloadable virtual obstetrical Teams who offer prenatal checkups via video chat so that all members feel closer together despite location differences; plus educational content including informative articles written by experts (including myself!). And if things go well after birth? Your personalized timeline includes easy-to-use tools to keep track of all baby milestones and favorite memories.
Most pregnancy apps have positive reviews, but this app has the best feedback users provide.
A couple of Babycenter pregnancy tracker apps features:
Includes a kick counter and contraction timer.
It includes a birth preferences form for labor and delivery that you may give to your doctor or caregiver.
Prepare for baby's arrival to-do list.
Find out exactly what is your baby's size.
Download BabyCenter Pregnancy Tracker for Android
Ovia Pregnancy Tracker App: Baby Due Date Countdown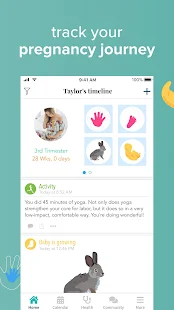 Ovia Pregnancy is the ultimate resource for expectant moms. It provides informative articles on everything from breastfeeding and sleep habits to tips about mood swings, common questions people ask during pregnancy, or how you can find out what your baby's name might be if they're going through a tough time deciding! The app also has an integrated symptom tracker where users get support from other like-minded individuals who have been there before – all without having discussed sensitive issues publicly online where anyone could read them. This is one of the best pregnancy tracking apps and has a couple of in-app purchases you can choose from.
Here are a couple of app features for this pregnancy tracker & baby's growth:
The journal includes a calendar to keep track of doctor appointments, milestones, and more.
includes a health assessment in partnership with your health care providers.
Contraction timer for other expectant moms.
A couple of million users have used the app and more than one million of those were during pregnancy! You can try it as well by clicking on the links below:
Sprout Pregnancy – Baby's Development Help
The Sprout Pregnancy apps offer a comprehensive experience that combines the usual pregnancy features with extras like checklists and doctor appointment details. When your little bundle of joy is finally born, save or print out an easy-to-follow PDF pregnancy journal outlining everything you went through during this exciting time in life! The app also includes an easy-to-use tool to create a personalized pregnancy timeline of the milestones your baby will reach throughout his/her first year. This is a free app to download but has a couple of in-app purchases.
Other features for this app are:
Great pregnancy tracker
Includes a birth plan feature
In-depth pregnancy milestones with the baby's progress
Download the app from HERE.
What to Expect Pregnancy Apps
What to Expect's Pregnancy and Baby Tracker app is a standout for its visually appealing aesthetic, clean interface. Unlike other apps that only list baby stages against different sizes of objects or compare them head-on without any fun measurements like 3D models from movies like Grease (1980), this one includes items such as 80's nostalgia props in order to make comparisons more interesting! Expectant mothers can track their baby's growth, connect with other expecting moms in the forums, access personalized week-by-week articles and videos, and even watch helpful how-to videos. Plus – receive notifications about your little one's progress as they make their way into the world!
The app has a 4.8 rating and includes the following app features:
Includes ovulation calendar and great health tips
Bump photos and weight tracker for the fetal development
You can download the app from HERE
Baby Names and pregnancy journey
Baby Names is a fun, interactive baby name tool that works like a dating app. You and your partner can each download the app to see who likes or dislikes what – when both of you agree on an option it'll be added as one of your favorite names! To narrow down our 30k options we have purchased extra filters so only show us some from certain countries/letter beginnings etc…You're also able to customize how often this service checks for new matches based on if there's anything specific going on in real-time (like checking sometimes during morning commutes) but even those features come at small prices: Free unless customization requests are made while paying $2-$5 per premium purchase.
Features:
Get cool baby name ideas while your pregnancy progresses
Baby kicks
Download it from HERE.
My Pregnancy Tracker
The My Pregnancy App is a great option if you're looking for an easy-to-use app that doesn't overburden your phone with ads and unnecessary information. This pregnancy tracking system has a simple interface which tells users weekly how far along they are, where their baby's development stands in relation to its age (such as weeks or months) at any given time during this stage of motherhood; it also includes helpful tips from other moms like myself! The checklist helps keep track until each milestone happens while the weight tracker allows me to make healthier eating choices based upon what my body reads about calories intake needs throughout different stages – now there will be no excuse to exercise regularly because I can see exactly where all those excess pounds went!
The following are some of the features offered by My Pregnancy :
Simple and intuitive kick counter.
Contraction timer & baby's kicks.
Who's Your Daddy?
Who's Your Daddy? is designed to make the experience of pregnancy a shared one. The website offers weekly updates on your baby's progress, tips for what you can (or should!) do as an expectant dad during this time and also includes contraction timers that help dads remember all those fun moments when mom went into labor for him!
Get it for iOS
Move Your Bump
The best way to stay active during pregnancy is by doing something that's safe and enjoyable. The Move Your Bump app has workouts for every fitness level with modifications, so you can find an activity appropriate no matter what stage of parenting or how much time constraints allow! There are even specific exercises designed just in case labor gets easier than expected- who knows? It might happen sooner because these routines have been proven effective at reducing inflammation when practiced regularly throughout one's lifetime (which begins after conception).
It would be super helpful if future moms had access to this app during pregnancy mode because exercise has been proven helpful in alleviating back pain, fatigue, and even stress! Yes, you can do it.
The following are some of the features offered by Move Your Bump :
Month workout plans for each trimester.
Month fitness program to keep you moving post-delivery.
Peanut
Pregnancy can be a really confusing time, but there's no need to worry! With Peanut you'll find other pregnant women near your area and connect with them. Chat or video call on the app then meet in person if things go well enough–or just share questions and tips through group chat based around common interests like infertility treatment plans. This is a great way to make friends and feel supported as you go through one of the most important times in your life.
Some features of Peanut:
Track your baby's expansion.
Get tips from other pregnant women.
Find local mom friends.
Download it for iOS and Android
MommyMeds – Provide Medical Advice for your Own Health
The MommyMeds app is the perfect way to protect yourself while pregnant or breastfeeding. It contains a database of more than 20,000 drugs and medications that can tell you what each agent does as well as any side effects it may cause in your body during pregnancy (or if nursing) with just one tap on an icon… Plus there are always English/Spanish versions available too! So now all moms know they're taking care not only themselves but also of those around them when using the medicine.
A handy tool like this electronic medical guide will help make sure everyone gets exactly what their bodies need at every stage – even without worrying about forgetting something important; because remember: "Where would anybody ever find out how much fish oil gel was supposed to be in each capsule "
The following are some of the features offered by MommyMeds:
Dosage search for your medications including prenatal vitamins.
Create a medication list & print it out.
Nutrition guidance.
Weight gain solutions.
Professional medical advice including for the postpartum period.
Find the best medical advice for common symptoms including high blood pressure during pregnancy.
Preparation for the hospital bag.
Conclusion Best Pregnancy Apps
So there you have it, the greatest pregnancy apps to keep you healthy, informed, and active. Whether you're looking for baby names, health advice, or just a way to track your progress, one of these apps is sure to fit because technology has made pregnancy easier in many ways. Whether you're trying to track your symptoms, find workout routines or meet other parents there's an app out there that will suit your needs! We have tested them for you in order to pick the best pregnancy app. Comment below and let us know what your favorite is so we can share it with our readers too!
Tags: best pregnancy apps, pregnancy tracker, pregnancy tracker app, contraction timer, due date calculator, pregnancy apps