9 Best ChatGPT Apps For Mobile Worth Your Time In 2023
Published on January 16, 2023 – Last Updated on November 22, 2023
Welcome to the fantastic world of the new innovative world with the best ChatGPT apps out there today! This article is like a fun treasure map to help you discover ChatGPT. This super-intelligent helper can talk and assist in creating entertaining stories, great articles, or homework.
So we have something for you whether you use an Android phone or an iPhone. We'll look at some of the most excellent apps, see how they work, and check out what makes each one special. We made a list of the best apps that use the smart brain of ChatGPT & GPT-4 to have conversations and help you with ideas. To get any of these apps, you only need to tap the App Store or Google Play button; it's downloading on your phone!
The Best ChatGPT Apps Review
Our team has rigorously reviewed most of the apps powered by ChatGPT on the App Store and Google Play Store. Unfortunately, most are still clinging to older models to maintain a lower cost. However, we have discovered two gems that utilize the latest ChatGPT model & GPT-4 AI model, promising to deliver the fastest and most accurate outputs.
9 Best ChatGPT apps
Here are the best ChatGPT apps for Android & iOS:
Chat AI Chatbot Assistant Plus
The Official app of ChatGPT App for iOS and Android
Write.INFO
Google Bard AI
Bing AI
Genie – AI Chatbot Assistant
ChatOn – AI Chat Bot Assistant
Frank: AI Chat Assistant
Nova AI Chat AI
1. Meet the AI Chat one of the best ChatGPT Apps
Prepare to be captivated by the AI Chat & Chatbot Assistant Plus, a remarkable innovation that promises to be your go-to solution for all communication and content creation endeavors. For a modest annual investment of $39.99, you gain access to a world of intelligent assistance powered by the formidable combination of the ChatGPT, GPT-3, and GPT-4 technology.
Lastly, this app is more than just a tool; it's your personal AI virtual assistant, ready to reshape your work and communication. Imagine a virtual helper perfectly tuned to your needs, offering smart suggestions every step of the way.
Features:
Personalized AI Assistant: At its core, the app offers a personal AI assistant equipped to revolutionize your work and communication strategies, adapting seamlessly to your unique requirements.
Multilingual Support: Break language barriers with the app's support for over 140 languages, fostering smooth communication and engagement on a global scale.
Customizable Interface: The app prides itself on its user-friendly interface, offering easy navigation and the flexibility to tailor the AI chatbot's tone, writing style, and language to align with your preferences.
Use Cases:
Content Creation Excellence: Whether crafting compelling essays or engaging social media content, the app is your reliable ally, facilitating content creation quickly and efficiently.
Technical Assistance: For those delving into the world of coding, the app emerges as a valuable resource, assisting in debugging code and offering intelligent suggestions to streamline the process.
Compatibility:
Cross-Platform Availability: Designed with user convenience, the app integrates seamlessly with Android and iOS devices, promising a harmonious incorporation into your daily routine.
Enhanced OpenAI ChatGPT Access: Users are treated to an upgraded version of OpenAI's ChatGPT, engineered to deliver responses that mirror human-like accuracy and nuance, paving the way for intelligent conversations that resonate.
Step into the Future of Intelligent Conversations and download PowerBRAIN AI, the most advanced ChatGPT App.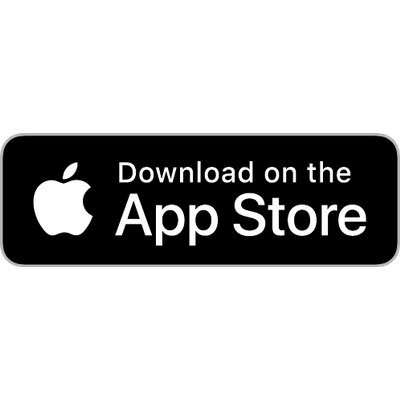 Here are the download details for the Chat AI: AI Chatbot Assistant App (Chat AI Chatbot Assistant Plus built on ChatGPT API & GPT-4):
Download Google Play Store Android: AI Chat
Download Apple iOS: AI Chat
AI Chatbot Assistant – Character AI & Avatar AI
The Chat AI Chatbot bot Assistant Plus App is not just limited to answering questions and creating content. In addition, it also excels in other areas such as translation, language practice, brainstorming ideas, and even generating daily horoscopes. With voice commands and the ability to engage in dialogs and remember the context and chat history, the AI chatbot provides a personalized and interactive experience.
One of the standout features of this app is the integration of AI characters and avatars, such as AI Einstein and AI Elon, which add a unique and entertaining twist to your interactions with AI chatbots. The app also includes a desktop web version featuring AI Text2Speech, AI Transcription, and an AI Website Builder, further enhancing its capabilities. All the AI Chatbots are powered by Chatbots.me.
SCAN to download the AI Chat App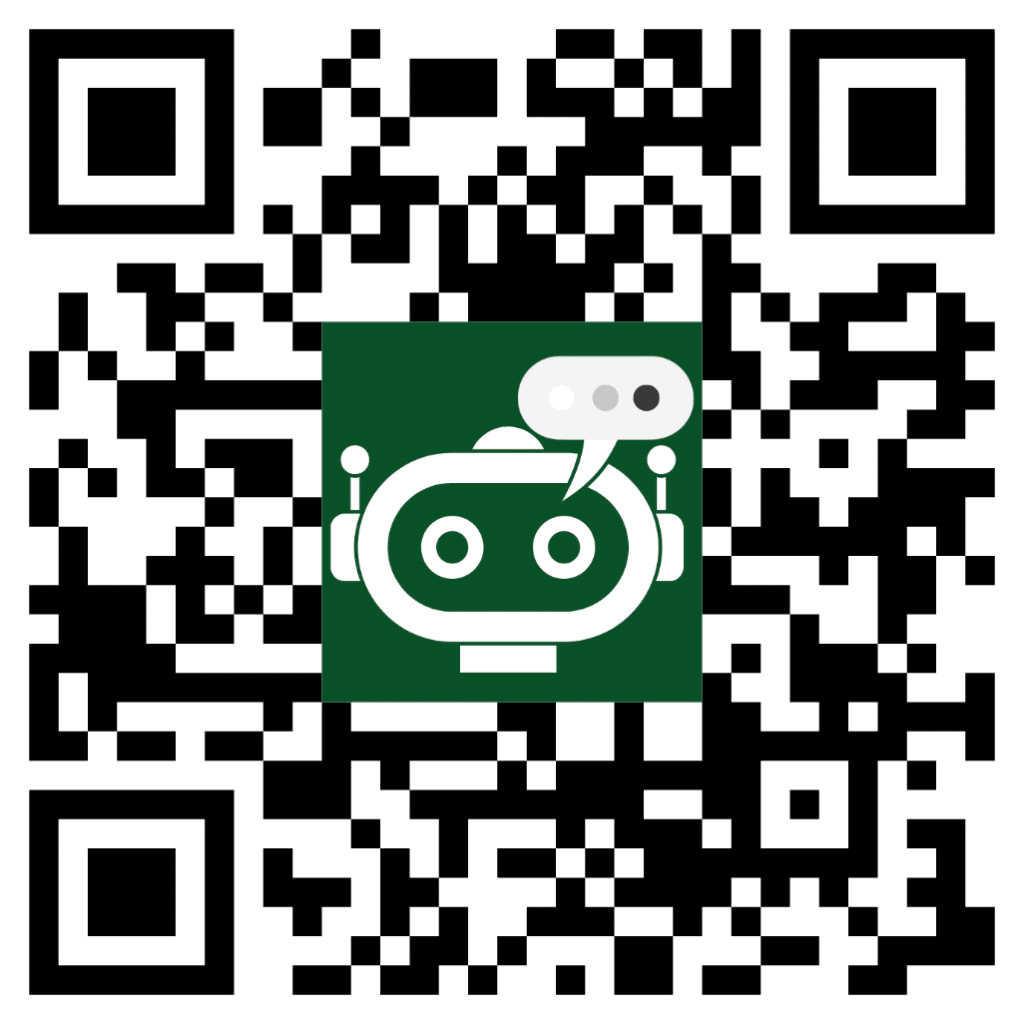 2. The Official app: Official Chat GPT App for iOS and Android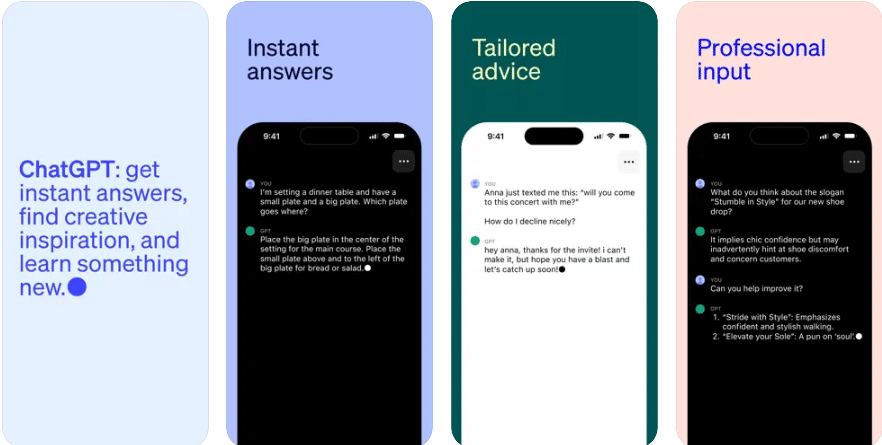 A monumental stride has been achieved by unveiling the official ChatGPT app exclusively for iOS users. Crafted meticulously by the pioneers at OpenAI, this avant-garde mobile app encapsulates the essence of ChatGPT, placing a world of precise answers, bespoke advice, and a fountain of creative inspiration right at your fingertips.
Features of the Official ChatGPT App:
User-Centric Design: At the heart of the ChatGPT app lies a commitment to user convenience, offering a gateway to a simplified and enriched life. This complimentary tool stands as a beacon of innovation, presenting a range of features and capabilities that redefine the boundaries of what a mobile app can achieve.
Synchronized Chat History: One of its standout features is the ability to synchronize your chat history across multiple devices, ensuring that your ChatGPT conversations are secure and easily accessible anytime, anywhere.
Voice Command Integration: Elevate your user experience by integrating Whisper, OpenAI's revolutionary speech recognition system. This feature facilitates voice command inputs, setting the stage for a seamless interaction with your digital assistant.
Advanced Technology with Openai's ChatGPT Apps:
Gateway to GPT-4: The official iOS AI Chat app serves as your portal to the unmatched capabilities of GPT-4, the newest evolution of the AI model that powers ChatGPT. As a ChatGPT Plus subscriber, you gain exclusive access to the advanced functionalities of GPT-4, allowing you to explore new features ahead of others and enjoy faster response times on your iOS devices.
Commitment to Innovation: Under the strategic guidance of Sam Altman, OpenAI continues to forge ahead in its journey of relentless innovation. The team is dedicated to continuously enhancing the app, incorporating user feedback to refine its features and safety measures, and ensuring a secure and enriched user experience.
Official ChatGPT Mobile App for iOS is a free app: https://apps.apple.com/us/app/chatgpt/id6448311069.
The official ChatGPT Android App: https://play.google.com/store/apps/details?id=com.openai.chatgpt&hl=en_US
Release on May 18th of the best ChatGPT Apps
For those with a creative spark who are always seeking inspiration, the ChatGPT app becomes a treasure chest of ideas. Whether you're brainstorming gift suggestions, structuring presentations, or even penning the perfect poem, this app is here to assist.
Besides, it carves out a learning playground, letting users dive into new languages, explore bits of modern history, and more, all at their own pace.
The OpenAI App for iOS has recently broadened its horizons and is now available in over 100 countries worldwide. Built on deep learning and reinforcement learning foundations, the official ChatGPT mobile app is a masterpiece born from extensive research and development led by OpenAI.
This entity, a hub of innovation, has shared numerous research papers on AI, steadily working towards nurturing artificial general intelligence (AGI) that resonates with the broader good of humanity. The refreshed ChatGPT, now driven by the powerful GPT-4, collaborates with human trainers and employs cutting-edge model structures to boost its performance and safety measures.
As the ChatGPT app evolves, a bright future beckons for third-party developers. The upcoming release of ChatGPT plugins and a toolkit is on the horizon, opening doors for seamless integration of ChatGPT into mobile apps and services.
With the unveiling of the official iOS app, OpenAI reiterates its mission to morph top-notch research into practical tools that empower individuals, all while maintaining strict standards for secure and responsible handling of sensitive information.
In addition to the advancements seen in the ChatGPT apps, a notable evolution in email communication has been brought forth by Email AI, an Android app that transforms the way you manage and compose emails. As a pioneering AI Email Generator, it offers a blend of intelligent suggestions and automated responses, streamlining the email writing process. Its AI Writing Assistant and AI Proofreader are exceptional tools for ensuring grammatical accuracy and stylistic flair in every email with EmailAI.You can effortlessly create, customize, and manage emails, bringing AI's power to your fingertips.
Lastly, following closely, next month marks the arrival of the ChatGPT Android app, broadening the spectrum of intelligent, interactive AI companionship across platforms.
3. Write.INFO: Your Ultimate AI-Powered Assistant and Content Generator
The Write.info app emerges as a formidable alternative to Jasper.AI, offering a comprehensive tool suite that facilitates seamless content creation and monetization. Discover the future of AI with Write.Info, where you can generate text, images, code, chat, and much more, all from a user-friendly dashboard.
The Content Creation Journey:
Natural Language Processing: Leveraging the power of natural language processing, Write.info understands and generates content in various languages, breaking barriers and fostering global communication. Write AI writer works on multiple languages, and as for technology, you can pick from ChatGPT or GPT-4 language model.
AI-Powered Search and AI Search Engine: Experience the revolution in search capabilities with AI-powered search and AI search engine functionalities, delivering instant answers to your queries and facilitating a seamless user experience.
Voice Input and Image Creation: Enhance your content with voice input capabilities and innovative image creation tools, including the AI Image Generator that crafts stunning visuals in seconds. Generate images on the go completely free.
Custom Templates and Prompts: Customize your content creation process with unlimited custom templates and prompts, catering to diverse sectors such as blog posts, e-commerce, and development.
Support Platform: Manage your support tickets efficiently from your dashboard, ensuring smooth operations and customer satisfaction.
Professional AI Writing with ChatGPT Apps:
Whether you're a digital marketer, developer, or entrepreneur, Write.info covers you. It helps easily create engaging blog posts, social media content, captivating ads, and voiceovers. Here are some notable features:
Blog Post Ideas and Intros: Generate a reservoir of blog post ideas and craft captivating intros that grab readers' attention from the get-go.
AI Writer and Grammar Correction: Say goodbye to writer's block with the AI Writer feature and ensure flawless content with the Grammar Correction tool.
Generate AI Images and Video Descriptions: Elevate your content with the ability to generate AI images and craft compelling video descriptions for platforms like YouTube.
Jasper AI Alternative: Positioning itself as a robust alternative to Jasper AI, Write.info promises a rich array of features that facilitate content creation and monetization.
Write.info Powered by ChatGPT Apps:
Embarking on your Write.info GPT-4 journey is as simple as 1, 2, 3:
Define your content's focus and adjust settings to suit your preferences.
Input basic information or keywords about your brand or product, and let the AI algorithms work their magic.
View, edit, or export your results with just a few clicks; your content is ready to splash in the digital world.
Write.info Community:
Become a part of the Write.info community and explore testimonials from satisfied users like Peline Jan (Entrepreneur), Tom Daniel (Writer), and Eric Sanchez (UX Designer), who have leveraged the platform to elevate their content creation endeavors. With flexible pricing options and secure payment gateways, Write.info promises a hassle-free experience that caters to your budget and needs.
4. Google Bard AI
Google Bard is a nascent expedition into the realm of generative artificial intelligence by Google. It's powered by a research Large Language Model (LLM) and is designed to serve as a tool that enhances productivity, fuels creativity, and accelerates the development of ideas​1​. The underlying technology of Bard is LaMDA, a large language model capable of generating high-quality responses, which sets Bard apart as an experimental conversational AI service​2​.
This innovative AI platform is not just a generative tool; it's an assistive AI chatbot capable of crafting text for many applications, including but not limited to drafting cover letters, assisting with homework, generating computer code, and concocting Excel formulas​3​. With the integration of Bard Extensions, users have the luxury of seamlessly interacting with various Google services like Gmail, Docs, Drive, Google Maps, YouTube, and more, thereby exemplifying Google's endeavor in crafting innovative solutions through the fusion of Bard with its large language model PaLM 2​4​.
Release Date: February 6, 2023
Core Technology: LaMDA
Primary Objective: Boost productivity and assist in text generation across various domains
Unique Selling Point: Integration with Google services through Bard Extensions
Google Bard stands as a testament to the potential of AI in reshaping how individuals and professionals interact with digital technology to streamline their day-to-day tasks and projects.
5. Bing AI Powered by ChatGPT Apps 4
Microsoft's Bing has metamorphosed from being a mere search engine to an AI-powered chatbot, thanks to the integration of ChatGPT 4 technology. The new Bing is augmented by OpenAI's GPT-4 advancements, ensuring users avail the most comprehensive co-pilot features available in search engines​5​. This fresh incarnation of Bing, now powered by ChatGPT, is a leap towards answering queries and generating responses with an enhanced AI-driven approach​6​.
The partnership between Bing and OpenAI has birthed a search engine that now operates on a superior version of the GPT model. As of April 2023, Bing is utilizing a testing version of GPT-4, while its counterpart ChatGPT operates on the GPT 3.5-turbo model, indicating a significant upgrade in the AI powering Bing​7​.
Transformation: From a traditional search engine to an AI-powered chatbot
Core Technology: GPT-4 by OpenAI
Primary Objective: Enhancing search and query responses through AI
Unique Selling Point: Real-time information provision and enhanced AI-driven response generation​8​
6. Discover Genie – Your AI ChatGPT App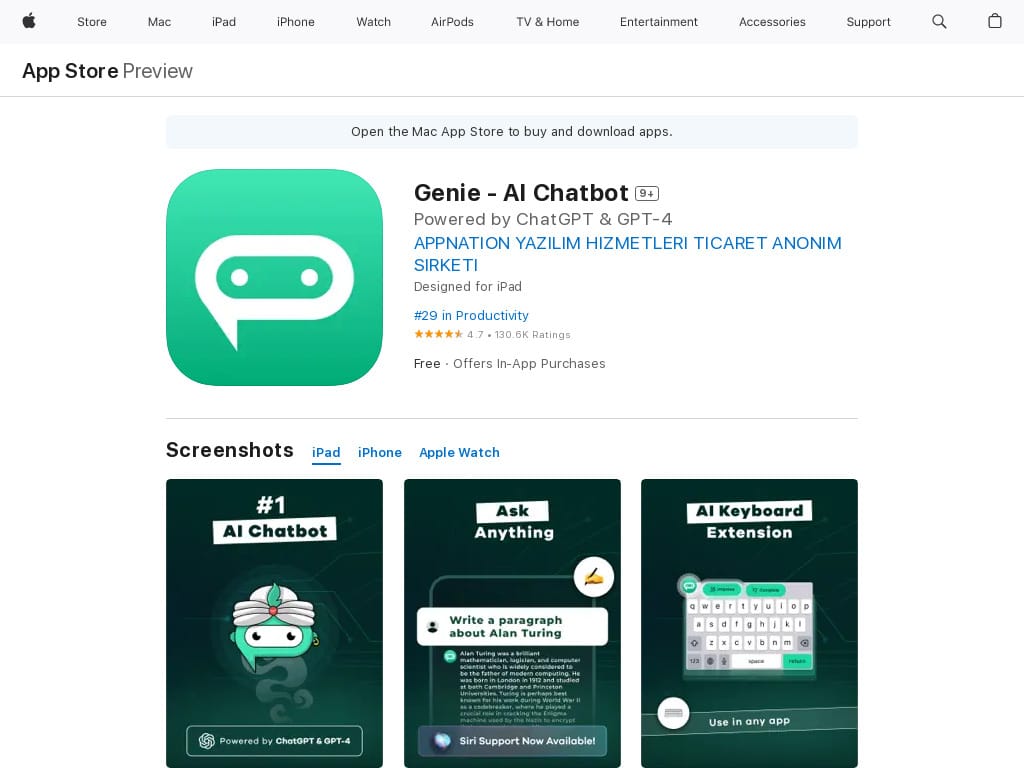 Meet Genie, your new personal assistant from AppNation, ready to change the game in digital interaction. Powered by GPT-3, GPT-4, and ChatGPT, Genie offers a user-friendly experience that's already won over 10 million users worldwide.
Genie shines in AI chatbot apps, changing how you communicate, learn, and reach your goals. Whether you're curious or need personalized advice, Genie is here to help.
Available on both the App Store and Play Store, Genie isn't just an app—it's an all-in-one solution that fits effortlessly into your daily routine.
Remarkable Features Await You:
AI-Powered Excellence: Built on the robust foundations of GPT-3, GPT-4, and ChatGPT, Genie promises a dynamic, AI-powered experience that adapts to your needs.
User-Friendly Interface: Navigate through Genie's features easily, thanks to its intuitive, easy-to-use application design.
Multimedia Integration: Genie takes interaction to a new level, allowing users to input photos directly from the camera for a richer experience.
Voice Command Support: Engage with Genie AI Chat effortlessly, as it supports voice commands, offering voice responses and keeping a history of your conversations for a seamless chat experience.
Use Cases That Will Astound You:
Academic and Creative Assistance: Whether it's crafting essays, spinning tales, or answering complex questions, Genie stands as your reliable academic and creative partner.
Natural Conversationalist: Genie excels in facilitating natural conversations, providing advice, and helping you forge new connections in the digital space.
Dive into the world of chat AI bots because of Genie, where technology meets convenience, offering you a personal assistant that is both intelligent and intuitive. So, experience the future of chatbot apps with Genie, where every interaction is a step towards a brighter, more connected world.
7. ChatOn: AI Chatbot Assistant
ChatOn shines as a top-tier AI chatbot, now smoother and more human-like with its upgrade to GPT-4 technology. It's your reliable assistant, ready to serve a broad audience—from copywriters hunting for the right words to students needing help with assignments, marking it as a standout among AI chatbot apps.
Features That Set ChatOn Apart:
Image-to-Text Converter: Unleash the potential of visual content with ChatOn's innovative image-to-text converter, a tool that transforms visual data into insightful textual content.
Multilingual Support: Break language barriers and connect with a global audience with ChatOn's multilingual support, facilitating accessible communication in various languages.
Assistance with Maths and Coding: Whether you're grappling with complex mathematical problems or coding challenges, AI Chat ChatOn is equipped to provide the help you need, making it a valuable tool for students and professionals correspondingly.
Use Cases That Showcase ChatOn's Versatility:
Quick Answers to Your Queries: Turn to ChatOn Chat AI Bot for swift and accurate answers to your questions, making it a reliable assistant in your day-to-day interactions. ChatOn is powered by ChatGPT & GPT-4, and you can download it for free from the App Store.
Your Trusted Proofreader: Enhance the quality of your business letters or job applications with ChatOn's reliable proofreading capabilities. Draft your content and let ChatOn refine it to perfection.
AI Chat Assistant at Your Service: Explore your creativity with ChatOn's AI writing assistant, which is capable of crafting everything from insightful essays to poetic verses.
Getting Started with ChatOn vs. ChatGPT:
Embarking on your ChatOn journey is a breeze. With optional in-app purchases, this free AI chatbot offers a range of basic features to get you started. Its simple user interface ensures a hassle-free experience, allowing you to make the most of its capabilities without any complications. Download ChatOn today.
8. Meet Frank AI, Advanced AI Chat with Chat GPT Apps
Dive into the dynamic realm of AI with the Frank AI mobile app, a spark of innovation inspired by OpenAI's GPT-3 Chat, offering a smooth mobile experience filled with endless possibilities. Here's a closer look at Frank:
Key Features:
Ads-Free Search: Explore with Frank and enjoy an ads-free journey, a unique perk among Chat GPT apps.
Text and Image Generation: Harness Frank's advanced language model to craft text and captivating images, enriching your content creation journey.
Frank AI Keyboard Extension: Elevate your typing with the Frank AI keyboard, complete with a spelling checker for flawless content. Plus, I enjoy voice command support, making Frank a top-tier virtual assistant.
Frank's AI Versatility:
Human-Touch Texts and Voiceovers: Frank provides human-like responses and voice command support, from crafting poems to answering queries.
AI-Driven Image Creation: Unleash the future of content with Frank's mesmerizing image generation, perfect for blogging and YouTube scripting.
Instant Response Adjustment: Tailor responses on the fly with Frank, a handy feature for open-chat discussions and job interviews.
Download Frank AI:
Discover the global sensation of Frank, your AI chat assistant available in over 100 languages. Android users can revel in a user-friendly interface that's set to redefine the open AI Google assistant experience. Frank invites you to an early-access adventure into a world brimming with potential.
9. Discover Nova AI: The Chat Companion Built on Chat GPT Apps
Step into the future with the Nova AI mobile app, a remarkable entity in chat GPT apps, bringing a blend of GPT-3, ChatGPT, and GPT-4 technologies to your fingertips. This AI chatbot stands as one of the best chatGPT alternatives, offering a seamless and intelligent conversation experience akin to interacting with a knowledgeable friend.
Nova AI's Outstanding Features:
Speech-to-Text Technology: Experience the ease of conveying your queries through Nova's advanced speech-to-text technology, a cornerstone in the modern content creation system.
Multilingual Support: Break language barriers with Nova AI's support for over 140 languages, making it one of the best chat GPT apps for a global audience.
Unified Experience Across Devices: Enjoy the convenience of accessing Nova AI from multiple devices with a single account, ensuring a seamless experience wherever you go.
What's the best Chat GPT app for iOS?
The best ChatGPT app for iOS is Chat AI Chatbot Assistant Plus. You can download it here. You can find a list of the best ChatGPT app alternatives for iOS and MacOS.
What are the best Chat GPT apps for Android?
The best Chat GPT app for Android users is AI Chat Plus Chatbot Assistant. You can download it here. You can find a list of ChatGPT alternatives for Android.
References: Top 15 GPT-3 Chatbots: Talk with AI, ask questions (March 19th, 2023)
Homeworkify
In the current era where technology and education intertwine, Homeworkify emerges as a beacon of innovation. This AI Homework Helper stands as a pioneering tool in the contemporary educational landscape, harmoniously blending the robust capabilities of artificial intelligence with the nuances of academic learning.
It's not just a passive reservoir of information but acts as an active participant in the learning journey, representing a significant shift in how students approach their studies.
Designed to transcend mere answer provision, Homeworkify strives to instill genuine comprehension in students. The AI's adaptive algorithms excel in identifying individual student challenges and crafting personalized content to address specific areas of difficulty.
This dynamic interaction between the learner and the content not only presents answers but also elucidates the underlying concepts, fostering a deeper understanding and preparing them for future academic challenges. It's a perfect amalgamation of technology and education, heralding a new era in learning.
PowerBrain AI Companion
While multiple Chat GPT apps are available in the market, most face limitations, such as struggling to comprehend the context or producing random content.
Standing apart from the crowd, PowerBrainAI.com showcases a clear understanding of context, utilizing advanced algorithms to craft relevant and engaging content. It goes beyond just another chat GPT app, offering customization options that allow you to tailor the tool to your preferences.
PowerBrainAI shines as a potent AI writing tool, becoming a reliable ally for marketers, bloggers, and content creators. Whether you are looking to craft captivating blog posts, social media updates, or articles, PowerBrainAI can assist you in creating compelling content in just a few minutes.
Boasting a remarkable uptime of 100%, it promises reliability, ensuring that you can depend on it whenever inspiration strikes. Stay tuned as we delve deeper into our review of this standout Chat GPT app, where we uncover its key features and benefits.
What is ChatGPT?
ChatGPT shines in the artificial intelligence arena as a pioneering chat app, reshaping how we engage with technology. At its heart, ChatGPT is a refined AI model trained on extensive datasets to understand and craft human-like text from the given input.
This breakthrough has led to the best ChatGPT app, offering a smooth, smart conversation experience.
Available on iOS and other platforms, the ChatGPT app delivers lively, knowledgeable interactions, much like chatting with a well-informed friend. It's a gem for various tasks, including content creation, customer service, and educational help.
As ChatGPT evolves, it aims to grasp more human communication nuances, aiming to cement its spot as a front-runner in the AI chatbot sphere. Dive into the future of interaction with the ChatGPT app, where technology elegantly intertwines with human intellect.
Why go for the ChatGPT Apps alternative?
Choosing a ChatGPT alternative can bring new features and tailored functionalities that meet specific user needs. Though the ChatGPT app is a notable player in the AI chat realm, diving into ChatGPT alternatives can unveil innovative features and personalized user experiences.
These alternatives often boast varied capabilities, sometimes offering specialized services that might better suit individual or business needs. ChatGPT apps on various platforms, including iOS, might provide a different, perhaps more refined user interface and experience.
Exploring ChatGPT alternatives also opens doors to different AI sophistication levels, possibly finding a platform that aligns well with personal or professional goals. It also fuels market competition, driving continuous innovation in the sector.
So, while the ChatGPT app remains a solid choice, venturing into alternatives could uncover platforms more in sync with specific user needs, enriching the AI interaction scene.
Other apps that are worth mentioning in this article are:
AI Chatbot & Assistant
AI Chat Smith 4
Perplexiti AI
Perplexity AI, a term often resonating within the sphere of artificial intelligence, particularly sheds light on the prowess of AI models in predicting the probability distribution of a linguistic sequence. Unlike ChatGPT, which is predominantly engineered around generating human-like text, Perplexity AI focuses on quantifying the uncertainty of predicting the next word in a sequence, thereby serving as a critical metric for evaluating the performance of language models. It delineates language models' intricacy and predictive capacity by gauging how well they can anticipate the likelihood of a sequence extension. This concept is pivotal as it navigates the augmentation of language models, ensuring they evolve in a trajectory that minimizes perplexity and maximizes their predictive accuracy. Through the lens of Perplexity AI, one can fathom the underpinnings that differentiate various language models, carving a pathway for advancements in natural language understanding and processing.
Get the best ChatGPT apps on your mobile.
Having an intelligent assistant in your pocket has become essential. Choosing a ChatGPT app for your mobile device means stepping into a future of effortless communication and easy information access, whether on Team Android or Team iOS.
The ChatGPT app brings cutting-edge generative pre-trained transformer technology to your fingertips, ready for intelligent interactions anytime, anywhere.
While the ChatGPT app is a strong contender, diving into ChatGPT alternatives can enrich your user experience. The market is filled with various ChatGPT apps, each with its unique features catering to different user needs.
The spectrum ranges from apps offering top-notch language processing to those focusing on particular tasks.
Moreover, exploring the best ChatGPT alternatives might reveal platforms better suited to your specific needs, serving features more aligned with your personal or professional goals. So, go ahead and explore a ChatGPT app and unlock a universe of information, creativity, and innovation right on your mobile.
Read more about ChatGPT Apps and Applications