How to Use ChatGPT on Mobile (Android & iPhone Devices)
Published on February 15, 2023 – Last Updated on September 26, 2023
Are you tired of always being on the go and missing out on the benefits of using ChatGPT, the popular language model? This article will discuss how to use ChatGPT on mobile for Android and iPhone devices. The good news is that you no longer have to be tied down to a desktop or laptop computer to utilize the power of ChatGPT. With ChatGPT now available on both Android and iPhone devices, you can access its capabilities whenever and wherever you need it. In this article, we will show you how to use ChatGPT on your mobile device so you can have a personal AI assistant in the palm of your hand. Whether you want to have a conversation with a friendly bot or need assistance with a task, ChatGPT on mobile is the perfect solution for those who are always on the go.
Is there an app for the Google Play Store or Apple App Store?
While there is no official Chat GPT app for either the Google Play Store or the Apple App Store, several third-party applications utilize the advanced GPT 3 technology provided by OpenAI. These apps range from chatbots to AI personal assistant apps that provide users with a similar experience to ChatGPT. With so many options available, finding an app that suits your needs and preferences is easy. However, it's important to note that not all of these third-party apps are created equal, and it's always best to do your research before downloading and using any application that utilizes GPT-3 technology.
How to use ChatGPT on iOS Mobile Phones?
The same company that released PowerBrain for the Android phone released an iPhone version that is available in the Apple Store. There is no sign-in verification process to access this Chat AI Bot, and the price and app itself are like the Android Version. It's free to use for a couple of minutes, and then the interface requires you to purchase a subscription. Taking into consideration that other ChatGPT Chatbot requires a hefty sum of 7-8 per week, this app is only 6.99/per month and 49.99$ for the full year. Of all the iOS Apple Store apps, we strongly recommend this app. Download it from here: Chat GPT App.
#2 Best ChatGPT App for iOS is AI Chat Plus PRO with GPT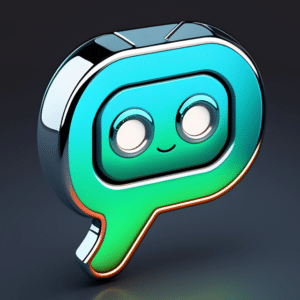 If you are more inclined to use a chat than pre-made templates, I think this app is made for you.
With its state-of-the-art GPT language processing model from OpenAI LP, AI Chat Plus PRO has access to a wealth of knowledge and can provide you with accurate and comprehensive answers. Its intuitive interface makes it easy to use, so you can quickly find the information you need without getting lost in a maze of search results.
So why waste time scrolling through endless pages of search results when you can get the answers you need quickly and easily with AI Chat Plus PRO? Download the chatbot app today and experience the most powerful iOS app for finding answers to all of your questions.
How to use ChatGPT on Android Phones?
If you own an Android device, you can access the power of ChatGPT by downloading a third-party application from the Google Play Store. Plenty of options are available, so it's important to read the reviews and research before downloading any app.
We can recommend you an app called PowerBrain Open Chat AI Chatbot App.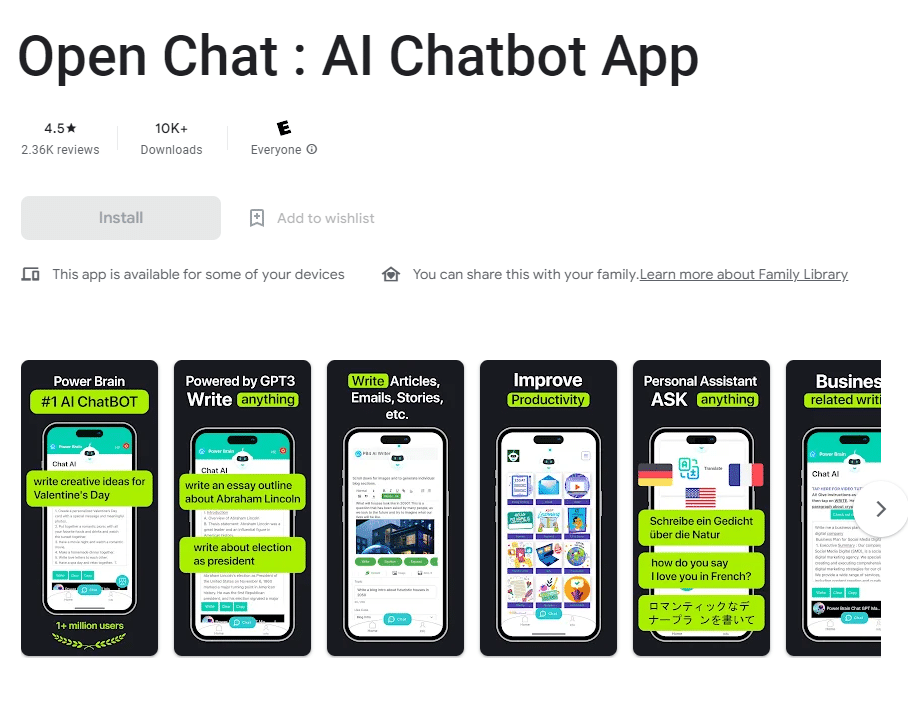 This app uses the latest model of GPT called DaVinci 003 and has lots of templates and prompt access options for the user to create AI content and answers. These can help you be more productive on mobile.
What we liked is the fact that there is no signup option, which means it's super easy to use. There have been lots of discussions on the internet about the most common applications that use ChatGPT AI Chatbot, requiring permissions over your phone.
The app is free for users to access and download, and it lets you experiment for about 10 minutes. Then there is a payment page that requires a premium version, which is fair because there are a lot of costs involved in running an app like that (Chat GPT OpenAI API, servers, development, etc.). The price is the best, as we could verify (6.99/month and 49.99$/ year). You can access it on any Android device.
Read more on our best chat gpt app and chat gpt examples articles, where we review all apps and best use cases.
What is Chat GPT?
ChatGPT is the perfect solution for those looking to experience artificial intelligence's power in their everyday lives. Powered by OpenAI, ChatGPT (Generative Pre-Trained Transformer) is a language model that can hold a conversation with you and provide natural and human-like responses. It uses deep learning algorithms to analyze data and generate responses that are tailored to your needs. With ChatGPT, you can have a personal AI assistant at your fingertips that can help you with anything from answering questions to providing recommendations.
You can still access the famous ChatGPT AI Chatbot through Safari or Google Chrome directly on the OpenAI website. However, while the ChatGPT free version is still available, you may find yourself needing help accessing it due to the service being overloaded or at capacity.
OpenAI in Browser with Google or Microsoft Account
In order to access the official app of ChatGPT on a desktop browser (Chrome, Firefox, etc.), you will require an OpenAI account.
Start by using a search engine like Google to search for OpenAI ChatGPT. Or go directly to: https://chat.openai.com/chat.
Create an account and a password using your email id, or log in with Google / Microsoft Account.
You will need a phone to verify the account with a code.
After the account is confirmed, you can sign in and use the Chat GPTOpenAI free service in your browser.
FAQ
Is there a ChatGPT app for iPhones?
Unfortunately, no app is currently available for iPhones or iPads that offers Chat GPT.
Is there a ChatGPT app for Android?
Unfortunately, there is no sanctioned Chat GPT app built for Android devices. Nevertheless, you can find plenty of applications that imitate the capabilities of a Chat GPT!
Can we use the ChatGPT app for free on iPhones?
You can conveniently access Chat GPT on any Apple device, be it iPhone, iPad, or Mac.
Best ChatGPT Apps for iOS:
Chat AI: Smart Writing PB 4
Genie – AI Chatbot
AI Chat – AI+ Chatbot
Chat AI – Ask Anything
ChatBot AI Chat: Writing AI Tool
Chat AI Writing Assistant Pro
A.i. Chat – Writing Chatbot
Best ChatGPT Apps for Android:
Open Chat: AI Chatbot App
Chat GPT: GPT Based AI ChatGOD
ChatSonic
Conclusion
To sum up how to use ChatGPT on mobile devices, you can easily download the app for Android or Apple devices. On an Android phone, it's easy to use and intuitive, letting you quickly take advantage of the mobile capabilities that come with the app. For iOS phones, you'll first need to register an account to start using ChatGPT – but after that, it functions similarly to an Android device.
Ultimately, using ChatGPT on a mobile device is convenient and valuable; it's a great way to get in touch with other people through your favorite device – without ever having to worry about losing connection power or Wi-Fi! All you need is your phone and some creativity — and you're good to go. So, if you're looking for a great way of connecting with the world around you, look no further than ChatGPT, available at both the Google Play Store and Apple App Store!