The Best Self Care Apps You Should Try To Achieve Your Goals
Published on January 14, 2022 – Last Updated on March 29, 2022
Technology has come so far that there are now apps to help us do anything. So if you're looking to improve your self-care routine, here are some of the best self-care apps to try. From tracking your moods and habits to providing personalized recommendations, these apps can help you reach your goals and feel your best. So why not give them a try?
Best Mental Health App
These days, there are an infinite number of ways to maintain your body healthily. With the rise in technology and development for portable devices like smartphones or tablets, it is now possible to track what we eat and work out with apps that give exercise advice based on our personal preferences, such as intensity level – all from just one small device!
Apps can help you meditate by following guided meditation sessions explicitly tailored towards relieving stressors present within each user's life. They might even offer educational content about different diseases, including how better sleep patterns have been shown recently to reduce plaque build-up associated with heart disease risk. In addition to this, studies suggest meditation can physically alter regions in the brain related to memory and empathy when done regularly.
MindTastik for Emotional Well Being and to Stop Procrastination
One of the best meditation apps you can use for emotional well-being and self-care is MindTastik. This app has tailored meditations, which are beneficial in many aspects throughout your daily life to improve yourself emotionally and physically by stopping procrastination, all while being mindful!
It's been featured on various websites in best meditation apps sections and was also included in a study that proves how efficient this app works when applied correctly to stop procrastination.
There are multiple benefits of using the premium features, and we can guarantee that the premium version is cheaper than the other apps. So prime your negative thoughts today and download this personal development app for iOS and Android.
Feelings and Emotions Gratitude Journal
So you're feeling down? Not sure how to handle life's challenges and setbacks, or I need a little extra strength sometimes. You'll find the tools that will help with this in our Feelings & Emotions diary app! Just write about your feelings (both positive/negative) every day while following what goes well throughout each week – it does make all those moments worth living again as soon as they happen, and there are plenty of them!!
Be happy no matter where we may be–whether at home alone after an argument, worrying over bills due tomorrow morning before work starts fresh again the next day, or simply happy for being alive. The positive moments are always worth keeping in our diary app!
Writing about your feelings is proven to improve your overall health. Try doing it with this free self-care app that you can download on iTunes and Google Play.
Period Tracker & Pregnancy Apps
Period tracker apps are a great way to keep track of your menstrual cycle, and some apps also offer features for tracking pregnancy. If you're looking for an app to help you track your period, here are some of the best options:
Flo Health – Self Care for Women
With the ability to track periods, ovulation dates, and pregnancies in a variety of graphs, this app is perfect for any woman who wants more detail about their reproductive health. Flo App makes life easier for any woman, and we encourage you to download the app.
Hypnobirthing Pregnant Mom – Self Care and Emotional Health for Pregnant Women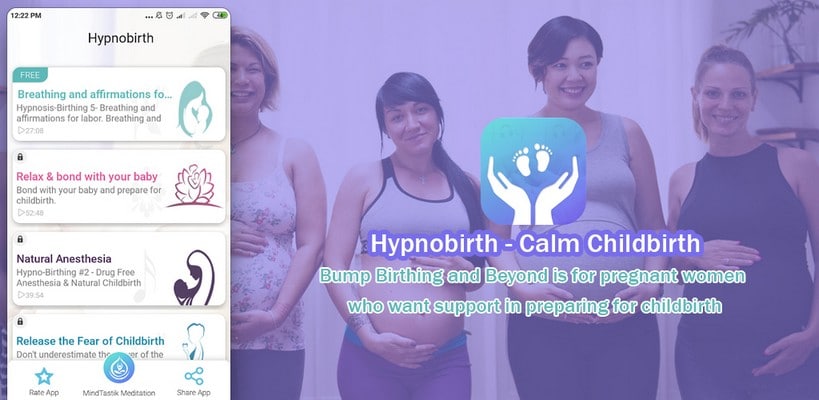 Hypnobirthing is a unique relaxation technique that was developed to ease the physical and emotional aspects of pregnancy. With HypnoBabies, you'll be able to relax during every stage from conception all way through delivery!
Hypnobirthing App is great for any expecting mom on her journey through this life-changing event. You can download it on iTunes or Google Play.
You need this app if you (or someone you know) is expecting, but all pregnant women will benefit from having it installed on their phone! The benefits of HypnoBirthing are endless, and the app itself is one of the best ways to learn about self-care during pregnancy.
Due Date Calculator
Here is a free app that can help you practice self-care while pregnant. A due date calculator makes it easy for any pregnant woman, whether she follows the traditional method of figuring out her due date or not. This simple app can help you keep track of weeks and days before you go into labor! It's ideal for keeping track of your pregnancy, and we encourage all expecting mothers to download this app on their phones (for free!)
Download it for Android or iOS.
Healthy Food App
If you're looking for some healthy food ideas while out grocery shopping, scan the barcodes of what's on your list and find how each item rates in terms of healthfulness. Fooducate will assign a rate based on ingredients, so if certain things aren't too good about an element or two, then this should help guide better choices next time around! Plus, once complete with weight loss improvement tracking, it'll send recommendations via email just like I needed them 🙂
So if you need a great app that will help you lose weight and provide healthy food recommendations, you can download it from Fooducate.
Stop Smoking App
Even though smoking is terrible for health in general, many people still practice this bad habit. If you want to achieve your health goals for self-improvement, you should try this stop smoking app for Android or iOS.
It has a couple of stop-smoking meditations to help you reduce cravings, and it offers a premium subscription at an affordable rate. This app allows you to quit in no time if you are really committed.
Flight Anxiety App
Flying is the safest way of traveling, but there's always a certain level of stress involved. This app helps you deal with pre-flight stress and solution-oriented coping during your flight.
This free self-care app is specifically designed to help people with flight anxiety. So if you want to be able to fly worry-free, download the app on iTunes or Google Play.
Daily Motivational Quote
Do you want to improve your mental health, become aware of the present moment, or find inspirational videos and quotes daily? Self-care starts with a healthier brain, and that's why this is one of the best self-care apps you can use for free. You can get it for iOS or Android.
Apple Health: Apple Watch App
The Health app is the one-stop-shop for all things health. This thing does it from tracking your fitness and nutrition goals or keeping a record of crucial medical information!
I'm sure we've got something here that will work well with what you're looking forward to 🙂
Google Fit
The new My Fitness Pal app is like having a personal trainer that gives you advice on making your workouts more effective. You can use it with third-party devices and applications, which means all of its information will be at hand no matter where we are! Get this excellent tool here for free access today.
SworKit for Fitness Goals
Sworkit is here to help you get in shape no matter what life throws at ya! You don't need a gym membership, equipment, or even clothes that are appropriate for working out. Just sign up and choose from one of their many workouts tailored specifically towards YOUR needs – they've got everything ranging from five minutes all the way down to 60+ minute sessions, so there really isn't anything this Sworkit won't be able to throw your way into getting fit fast without having any excuses not to go workout regularly again!
More Self Care Apps For Sleep, Stress, and Yoga
More self-care apps will help you sleep better, soothe your anxiety, and relax. There are apps for yoga too.
Calm is an excellent tool for meditation and relaxation, while there's also Headspace which is a perfect way to take control of your mental health while learning mindfulness.
Conclusion
The apps we've shared here are only the tip of the iceberg. There is an application for nearly every need and goal, so don't hesitate to explore them all! Comment below with your favorite self-care mobile apps, or tell us what you're using these days to reach your goals. We also encourage you to sign up for our weekly newsletter, where we share more helpful articles like this one–you won't want to miss it!
Tags: best self-care app, deep sleep, manage stress, habit tracking, self-care activities, reduce stress, self-esteem